As Lawrence's only professional road cyclist, Brian Jensen knows a thing or two about suffering in the saddle.
Just over a year ago, he found a new form of two-wheeled torture: cyclocross racing.
Long popular across the pond in Europe, 'cross is gaining in popularity in the states as an offseason cycling diversion. Just about every weekend during 'cross season, there's a race or two either in Lawrence or within a short drive's distance.
And what a 'cross race lacks in duration - usually far shorter than a typical road race - it makes up in intensity.
"It breaks up the tedious training, and it makes you work really hard," said Jensen, a former Kansas University cyclist who just finished his first pro season as a member of the Jelly Belly Cycling Team. "It's a very hard sport - an hour of very intense riding. You learn how to handle your bike better, because of the tight turns and the grass and the gravel.
"It's good for road cyclists. In road races, you can sit in. It's not hard all the time. It's only hard when you make it hard or somebody makes it hard. Cyclocross is hard from the start. You go as hard as you can out of the gates."
What exactly is cyclocross?
It's something of a cross between road riding and mountain biking.
The bikes themselves closely resemble sleek road bikes, but they have wider tires, more durable parts and brakes that won't clog in the muddy conditions that frequently coincide with 'cross season.
A typical 'cross course is short - a mile or two - and usually includes sections of grass, dirt, gravel and sometimes portions of pavement. Barricades are a unique feature at cyclocross races. These foot-and-a-half-high barriers force riders to execute a running dismount, throw their bikes on a shoulder, run and jump over a series of barricades, then perform a running remount of their bikes.
"It takes a couple of races to get it down," Jensen said. "It's something you can get better at. Some people really have it perfected, and they can ride away from everybody. In this area, the competition isn't the best in the country. That's why I can place well. If I go to a race with people with the best skills, I wouldn't see the front of the race. I'd lose time every time I had to get on and off the bike."
Photo Gallery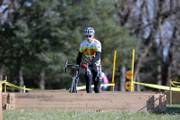 All 'crossed up
Happy hopping
Not everybody goes the dismount-shoulder-remount route.
At last weekend's Sunflower Cyclocross race out at Clinton Lake, Michael Folendore turned heads by being the only rider to "bunnyhop" the barricades.
To bunnyhop, a rider springs upward, launching self and cycle skyward, and Folendore is adroit enough to clear the 18-inch barricades.
"I usually gain four or five seconds on a rider almost every time," said Folendore, a Kansas University road cyclist who won the Category 4 race and placed third in the Cat 3/4 event. "I think I exert less energy when I bunnyhop, as opposed to jumping off, carrying the bike and running. It's more efficient, in my opinion."
Though Folendore started cycling with the fat-tire mountain-bike crowd, he honed his hops on pavement.
"It comes from really just doing urban stuff, riding your bike into the city, riding downtown," he said. "It's a BMX mix: street, urban-style of riding. It's street tricks, riding down stairs, jumping stuff."
Though Folendore agrees with Jensen that 'cross can be more strenuous than road racing in the short-term, he's not sure that's such a bad thing.
"It might be a little bit easier," Folendore said. "It's easier in the sense that you don't have to ride as far. On the road, you might go three hours on end. I've done road races where you're an hour-and-a-half into it and you're already tired, and you still have an hour-and-a-half to do. ('Cross) is only an hour. You're red-lining, but it's for a shorter period of time."
First family of 'cross
Brian isn't the only Jensen giving 'cross a go.
In fact, he says his interest in the sport pales in comparison to that of his wife, Michelle.
"She's way more into it than I am," Brian Jensen said.
Like her husband, Michelle Jensen is in her second season of 'cross competition.
"Several years ago, I saw a couple of races and thought, 'That would be cool. When I get a bike, I'm going to try it,'" Michelle Jensen said. "I don't have the skills to do any real mountain biking. You have to be pretty brave, I guess, to do that, jumping over logs and stuff. It's a different mind-set."
In addition to the physical challenges presented by cyclocross, Michelle Jensen - who won the women's race last weekend - was hooked by the crowd.
'Cross venues, because of their shorter courses, tend to be more intimate, and the racers can't help but notice.
"It's just such a cool crowd of people," Michelle Jensen said. "I like it more than road racing sometimes. The people are more relaxed, drinking beer, ringing cowbells : it's just cool."
Elemental challenge
Which brings us to another aspect of cyclocross racing: the weather.
Because the relatively short 'cross season takes place during the cycling offseason, the 'cross climate can be legendarily arctic.
"Last year, we had the state championship, and it was 14, and the wind chill was minus-something-or-other," Michelle Jensen said. "It was horrible. I remember I had my winter coat over my clothes, and at the last second I took it off. It was just horrible."
Elements like that tend to make Brian Jensen long for the open road. Throw in the wet weather that has been known to accompany winter's chill, and 'cross races can get more than a little sloppy.
"I prefer nice weather," he said with a laugh. "It doesn't suit me if it gets muddy. If it's really muddy, it's better for a mountain biker who has a lot of skills on the bike. I am a road cyclist."
For now, anyway.
Jensen, winner of last weekend's Cat 1/2/3 race, is mulling whether to return to school or continue his career as a cycling pro.
He and Jelly Belly are talking contract.
As they do, Jensen is using cyclocross to keep in shape.
"I like it a lot," he said. "Unfortunately, if you want to do well in road cycling, you have to choose one or the other. You can't peak to do well in 'cross season and expect to do well on the road, too. You can only have two or three peaks in a year. For me, I picked road. It's more laid-back. But it is a lot of fun to do 'cross. Would I ever pick 'cross? I might. It's definitely not out of the question."
Copyright 2018 The Lawrence Journal-World. All rights reserved. This material may not be published, broadcast, rewritten or redistributed. We strive to uphold our values for every story published.