Nuku'Alofa, Tonga — Australia and New Zealand agreed Friday to send troops to Tonga, where mobs demanding democratic reforms destroyed much of the capital in unprecedented rioting that left at least eight people dead.
Thursday's rampage by angry youths, who overturned cars, attacked government officials and looted shops and offices before setting them ablaze, was unprecedented in the tiny and impoverished South Pacific kingdom. Officials said about 80 percent of the capital's business district was destroyed.
The trigger for the violence was anger that parliament might finish its session for the year without settling plans to give elected lawmakers a majority in parliament over royally appointed legislators.
Six bodies were found in the burned-out offices of a power company. They were believed to be looters or rioters because the company's staff was accounted for, said Tonga's Lord Chamberlain, Hon. Fielakepa, who acts as spokesman for the king, and like many Tongan nobles uses just one name.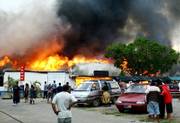 Government officials later confirmed two more bodies were discovered Friday in a second burned building.
Two Chinese shops were torched in attacks overnight, Police Commander Sinilau Kolokihakaufisi told The Associated Press today. About 30 Chinese-owned stores and businesses were torched during Thursday's riot.
The Chinese ambassador to Tonga, Hu Yeshun, said his embassy had "received over 150 people, whose houses or stores were destroyed by the mobs."
Ethnic Chinese traders have a large chunk of the economy in Tonga's capital and are sometimes resented by locals who perceive them as outsiders despite many families having been there for generations.
Thursday's violence appeared to target Chinese businesses but also government offices and businesses linked to government figures.
Copyright 2018 The Associated Press. All rights reserved. This material may not be published, broadcast, rewritten or redistributed. We strive to uphold our values for every story published.