When deer and vehicles meet, bad things happen. The evidence is along the sides of roadways and in the garages at auto body shops.
"We have one in the shop right now and three coming in," office manager Donita DeMersseman said Thursday about the latest deer-damaged vehicle count at Hite Collision Repair Center Inc., 3401 W. Sixth St.
This month in Douglas County, 17 traffic accidents have involved deer, according to the Douglas County Sheriff's Office. One of them resulted in an injury to a motorcycle rider. Eight of the accidents occurred from Nov. 4 through Nov. 7.
Deer have been on the move and acting unpredictably the past two months because it is their mating, or rutting, season. That season is now reaching its peak, and Saturday is being referred to as D-Day, or Deer Day, by the Kansas Department of Transportation.
Nov. 18 is the day the state records especially high numbers of traffic accidents involving deer. KDOT records show about 700 such accidents on that date in the past 10 years.
"We continue to see a high number of crashes in Kansas," said Pete Bodyk, chief of KDOT's Bureau of Traffic Safety. "Drivers need to stay alert to the dangers on roadways Nov. 18."
In Douglas County, the deer-vehicle accident count this month is the same as it was at this time in November 2005. During October this year there were 18 noninjury accidents and one involving an injury, compared with 22 noninjury accidents and one involving an injury in October 2005.
"It would behoove drivers to be very cautious when they are traveling at daybreak and dusk when the deer movement seems to be more active," Sheriff's Lt. Kari Wempe said.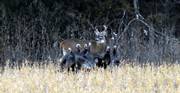 Deer population varies
At Hite Collision Repair, an average of six or seven automobiles damaged in deer accidents are brought in each week, DeMersseman said. The business sees others that are damaged beyond repair, she said.
"The bad thing is we see more (deer-damaged vehicles) year-round than we used to," DeMersseman said.
Despite the high number of deer-vehicle accidents, the Kansas Department of Wildlife and Parks noted that the total of such accidents in 2005 - 8,819 - was lower than any year since 1995.
"We take that as an encouraging sign that some of the deer management techniques applied, particularly in regard to the liberal distribution of antlerless deer (hunting) permits, is having a positive effect," said Bob Mathews, Kansas Department of Wildlife and Parks spokesman.
Problems with deer are more noticeable in more populated areas where there is more traffic, Mathews said. He stopped short of saying there is an overpopulation of deer in Kansas.
The department annually adjusts the availability of deer-hunting permits based on population problems, Mathews said. Currently in Kansas it is bow-hunting season for deer. That season began Oct. 1 and ends Nov. 28. Firearms deer season is Nov. 29 to Dec. 10.
"There are a variety of deer season and permit recommendations being considered right now, but there are no plans to change the deer season," Mathews said.
Danger increases
Rural Lawrence resident Hal Davis drives his motorcycle every day to work in Topeka. He travels on U.S. Highway 40, which is notorious for its high accident rate. That danger increases now because of deer he sees during that drive.
"During the last week and a half there's just been progressively more and more (deer) movement," he said. "I tend to slow down a little more this time of year."
Although he has had plenty of successful hunts during the past three years, hunting deer still isn't easy, he said. He hunts during the firearms season, which occurs after deer mating has peaked.
"They are a little more cautious then," he said.
KDOT, however, maintains that deer-vehicle accidents could remain high in December.
Kansas ranks 36th in the nation for deer-automobile accidents among policyholders, according to State Farm Insurance.
Keep your eyes peeled
The Kansas Department of Transportation offers the following tips to help motorists avoid hitting deer: ¢ Be especially watchful at dawn and dusk when deer are particularly active. ¢ Deer seldom travel alone, so if one deer crosses a road there may be others nearby. ¢ Reduce speed and be alert near wooded areas or green spaces, such as parks or golf courses, and near water sources, such as streams or ponds. ¢ Don't swerve to avoid hitting a deer. The most serious accidents occur when motorists take evasive action. ¢ Pay attention when you see deer-crossing signs and always wear a seat belt. ¢ Use bright lights and slow down whenever you spot deer.
Copyright 2018 The Lawrence Journal-World. All rights reserved. This material may not be published, broadcast, rewritten or redistributed. We strive to uphold our values for every story published.