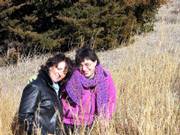 Their hands are both on a keyboard.
Kelley Hunt, coming from a background in rhythm and blues music, has hers on a piano keyboard. Caryn Mirriam-Goldberg, a poet, has her hands on a computer keyboard.
They meet each other in the middle to write songs.
"I'm a musical poet," Mirriam-Goldberg says. "She's a pretty poetic musician. This seemed natural."
The Lawrence residents, who have been writing songs together for a couple of years, will present "Brave Voice," a three-day workshop on songwriting, starting Friday. The workshop also includes a performance, open to the public, Saturday night.
Their songwriting relationship started in 2004, when they collaborated to write one song for "Dangerous Curves," an event at the Lawrence Arts Center, 940 N.H., that explored issues relating to breast cancer.
Since then, they get together about once a month to write songs.
"It's worked really well," Hunt says. "Caryn has a completely different perspective as a writer. I'm coming at this from a song form, but she's used to writing poetry and novels and short stories. It's really refreshing to me, and energizing. We clicked right off the bat."
They've written about a dozen songs together. Hunt performed one of them, "You Gotta Be the Vessel," on National Public Radio's "A Prairie Home Companion" last year, and she performed another for a recent interview and performance she recorded for XM Satellite Radio.
Caryn Mirriam-Goldberg reads her poem "The Wishing Tree Talks
Hunt, who also writes solo and with professional music writers, plans on using several of the collaborative songs on the album she'll record next year.
"In a way, it's stimulating," Mirriam-Goldberg says. "When you create something, there's always a moment when you have no idea what you're doing, and you just jump. This is the same way, but you're holding someone else's hand when you jump."
This is the second time Mirriam-Goldberg and Hunt have organized "Brave Voice." They did it once in May near Council Grove, and they plan to repeat that weeklong version again in May 2007.
Topics will include discovering your writing voice, developing a system for writing and finding outlets for your art.
Past Event
When: Saturday, November 18, 2006, 8 p.m. to 9:30 p.m.
Where: Unity Church, Ninth Street and Madeline Lane, Lawrence
Cost: $15
-->
-->
"We meet people where they are and encourage them to use whatever forms work for them," Mirriam-Goldberg says.
Hunt, who tours nationally with her band, says Saturday night's performance will be a departure from what she normally does for crowds. It will include both poetry readings by Mirriam-Goldberg and musical performances by Hunt, showing the similarities and differences in poetry and songs.
"I'm looking at it as a performance piece - the way we can link together subject matter," Hunt says. "The main thing I want people to know is they can expect something unique from if she was doing a reading or I was doing a concert. It's a unique combination."
Copyright 2018 The Lawrence Journal-World. All rights reserved. This material may not be published, broadcast, rewritten or redistributed. We strive to uphold our values for every story published.