Photo Gallery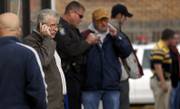 Carjacking
A carjacking that started in Lawrence this morning ended at 11:33 a.m., deep into Missouri.
The suspect quickly surrendered to police after his purloined vehicle was forced into the median on a road near Deepwater, Mo., after a chase that covered more than two hours and nearly 130 miles. There were no injuries.
The van was taken shortly after 9 a.m. by a man suspected of causing criminal damage at Checkers, 23rd and Louisiana streets.
The suspect - identified by authorities as Brandon Callahan - was 24-year-old man who had worked at the store four years, and was an apprentice in the meat department, according to store director Mike Smith. A week ago the employee requested a leave of absence because of personal problems, Smith said. He was to return to the store today and talk to management.
The suspect, however, came to the store and then threw a shopping cart into a window of a van parked outside the store, Smith said. Police were called.
While being pursued on foot by police, the man took a van parked at a gas station in the 1700 block of Massachusetts Street - pulling the driver out of the vehicle, then taking off, according to witnesses. The van then headed east on 23rd Street and Kansas Highway 10.
The pursuit had crossed into Johnson County, with state troopers joining the pursuit, by 9:24 a.m. The suspect van then headed south on Kansas Highway 7 near Olathe.
By 11:18 a.m., the vehicle was still being chased - near Deepwater, Mo., about 130 miles from where the chase began in Lawrence. He was being pursued through a rural area by Missouri Highway Patrol troopers. Live television coverage showed troopers throwing "stop sticks" in the path of the van; the vehicle appeared to have lost both front tires and at least one rear tire, and was running on rims. Still, the pursuit continued at slow speeds, with the van clipping parked cars at the intersection of a rural road at one point.
At 11:30 a.m., one pursuit car was seen bumping the rear of the van in an apparent attempt to force the van off the road, to no effect.
Copyright 2018 The Lawrence Journal-World. All rights reserved. This material may not be published, broadcast, rewritten or redistributed. We strive to uphold our values for every story published.