Washington — During a quick break between orientation meetings Monday on Capitol Hill, newly elected House member Nancy Boyda summed up her feelings in two words: "Overwhelming responsibility."
Boyda, a Democrat who defeated five-term Kansas Republican Rep. Jim Ryun last week, was among 50 incoming House freshmen learning the basics about being a federal lawmaker.
"We haven't broken ground on how we're going to solve health care yet," she joked.
Top priorities
Turning to more practical matters, she said her top priority in Congress will be to focus on constituent services, an area where she has criticized Ryun as weak.
She also is aiming for a seat on the House Armed Services Committee, given the strong military presence in her district, which includes Fort Riley, Fort Leavenworth and Forbes Field, near Topeka.
Under Democratic leadership next year, the Armed Services Committee is expected to take a more active role in questioning military strategy in Iraq.
Boyda has called the Iraq war a mistake and says the United States must establish a realistic timeline for withdrawal to encourage the Iraqis to form a functioning government.
Describing herself as a political moderate, Boyda stressed that she understands and respects conservative voters and grew up in a conservative family.
"Sometimes people make remarks about the right wing and I say, 'That's my family; they're good people,"' she said.
Boyda was in Washington with her husband and campaign manager, Steve Boyda, who said he is helping his wife set up offices and hire staff.
He said he doesn't plan to become part of her permanent staff.
"I'll certainly stay plugged into issues because it's in my own interest as well," Steve Boyda said. "When she's not able to make a presentation or speech in Kansas, on occasion, I'll speak on her behalf or make an appearance on her behalf."
Boyda and the other incoming freshmen attended meetings for most of the day before going to the White House for an evening reception with President Bush.
Seeking predecessor advice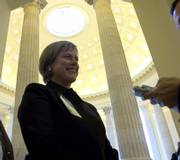 Boyda said she intends to seek advice from Ryun, although the two have not spoken since she defeated him a week ago, 51 percent to 47 percent.
Ryun says he has left repeated messages with Boyda.
"He left a message," Boyda said Monday. "We've tried to contact his office, but we're having a real disconnect."
She insisted there is no animosity between the two and said her transition director has been in contact with Ryun's office.
She also will seek advice from Kansas Reps. Jerry Moran, a Republican, and Dennis Moore, a Democrat.
"They're both very well-respected for their constituent service," Boyda said.
Boyda made health care reform a key part of her election platform and said she plans to focus on discouraging policies that encourage consumers to purchase prescription drugs by mail instead of from local pharmacists.
"The money that used to stay in our communities is now being shipped to New Jersey," she said.
Meanwhile, Boyda said that she doesn't plan to move permanently to Washington.
She said that she was looking for a one-bedroom apartment and planned to commute home on the weekends, like many other congressional members do.
Copyright 2018 The Associated Press. All rights reserved. This material may not be published, broadcast, rewritten or redistributed. We strive to uphold our values for every story published.