The education Kansas University provides does not stop at the borders of its campus.
Dale and Wanda Kring, who live about three blocks south of the KU campus, can attest to that.
"We have learned that Marlboro is the cigarette of the year, and Bud Light is the beer of the year," Wanda Kring said.
They know that because every day they pick up trash in their neighborhood while they go for a morning walk. At the end of a week, they'll have 15 to 20 grocery sacks full of trash, plus a few beer cartons and other larger items.
They also learn about current tastes in music, as stereos awaken them at least once per month. Biology also is occasionally on the course list. Just this month, Wanda Kring got to witness a young man urinating near the side of her house.
Most of the education, they assume, comes courtesy of KU students who gradually have become the predominant residents of their neighborhood.
The Krings know their story isn't unique. They're guessing that their response isn't either: Come July, they'll be leaving their home of 42 years in the 1700 block of West 21st Street to move into a new neighborhood on the northwestern edge of the city, far from the KU campus.
"We've realized that it is not very likely that we're going to change their behavior," Dale Kring said. "They're kids who are 18 to 21 years old. They're going to have a good time."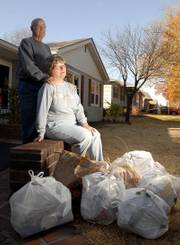 Seeking fixes
The Krings' story is not the tale that city leaders want to hear. Concerns about the city's older, core neighborhoods becoming predominately student rental districts frequently are expressed at City Hall.
"That type of situation is not the best result for the community," City Manager David Corliss said of people feeling like they have no choice but to leave their neighborhood. "We want strong, vibrant neighborhoods throughout Lawrence. We don't want someone having to leave a certain part of town because they don't like the condition of their neighborhood."
But city leaders also admit that enforcing the various city ordinances designed to promote peace and tranquility in a neighborhood can be difficult.
They have approved two ordinances specifically designed to deal with such neighborhood issues. The first is a nuisance house ordinance, which allows a home to be declared a nuisance house if its occupants or their guests receive two noise complaints, disturbing the peace or similar violations in a one-year period. The ordinance allows the landlord of a rental home to be taken to court, in addition to the tenants.
The law sat on the city's books for five years without generating a single prosecution. But this summer, city commissioners made some minor tweaks to the law, and, more importantly, gave the police department better resources to track complaints on individual homes.
-->
Scott Miller, a staff attorney for the city, said the result has been that tenants and landlords from more than a half-dozen homes have been called in for "abatement conferences." The point of the conferences are for city prosecutors to tell tenants and landlords what must change in order for them to avoid prosecution.
Thus far, the approach has been working, Miller said.
"The vast majority of tenants that we have talked to have been very contrite," Miller said.
Efforts to enforce a second ordinance - this one designed to prohibit more than three unrelated individuals from living in a single-family home - have not been as successful.
Corliss said enforcement continues to be a challenge because a court often demands more evidence than what is easily observable by neighbors or officers. For example, the mere presence of more than three cars at a home often is not enough to win a court case.
But Corliss said the city is trying to beef up enforcement in other ways. Beginning in 2007, the city's police force will include two neighborhood resource officers. Their main jobs will be to act as liaisons between the police department and neighborhoods.
"They'll get familiar with some of the hot spots where there are occasional problems," Corliss said.
Zone them in
Police discuss 'zoning' issue
The city also is taking a look at some outside-the-box type of solutions, Corliss said. His staff is examining a concept called "owner-occupied zoning." That would allow the city to create areas of town where each single-family home had to have an occupant who was an owner of the home.
The biggest question with that concept is whether it would withstand an almost certain legal test. Dwight Merriam, a Connecticut-based attorney who specializes in zoning law, said he's doesn't know of any community that uses such a zoning code.
"In terms of creating a zoning ordinance that sets it up as renters versus owners, I don't think that is legally defensible in any state," Merriam said.
He said university communities typically have challenges with preserving single-family neighborhoods. Sometimes it requires cities to take an entirely different approach to dealing with students, he said.
"Instead of thinking about ways to zone them out, you sometimes have to think about how to zone them in," Merriam said.
He said in Chapel Hill, N.C., the community has created special zoning areas that allow for the construction of four-bedroom apartments that have a shared living room and kitchen. The areas are close to the University of North Carolina campus. The result has been that those areas have become the place students want to live rather than in traditional single-family neighborhoods.
"You have to give up trying to keep some of those areas as traditional single-family neighborhoods, but this way, you save some of your other single-family neighborhoods," Merriam said.
Just memories
Any new idea won't benefit the Krings. The couple - who used to operate Kring's Interiors before turning it over to their grown children - are resigned to the fact that their neighborhood isn't going to change back to the way it used to be.
"Once you drive the families out, you are not going to get them back," Dale Kring said in a matter-of-fact tone.
There's no bitterness, however.
"There's nothing wrong with the kids," Wanda Kring said. "They're good kids. They're just in the wrong neighborhood."
And Dale Kring said he understands it is tough for the city to adequately enforce some of its ordinances, although he would like more police presence so that the current process wouldn't have to be so complaint-driven.
The lack of bitterness, though, doesn't make the changes in the neighborhood any less sad, Wanda Kring said.
"Children used to play in their yards and ride bicycles," Wanda Kring said. "It was a real neighborhood. It was so fun. It was all built around Schwegler School."
"Now," Dale Kring adds, "a lot of the kids at Schwegler have to be bused into the neighborhood."
Copyright 2018 The Lawrence Journal-World. All rights reserved. This material may not be published, broadcast, rewritten or redistributed. We strive to uphold our values for every story published.