Only one thing prevents Kansas from being a rock-climbing Mecca: lack of rocks.
But that doesn't mean the Sunflower State is totally devoid of devotees.
"We get that a lot, and it's kind of funny," said Taras Zelenchuk, a Kansas University junior from Shawnee and president of the KU Rock Climbing Club. "People don't expect a lot of climbers from Kansas, but there are a few."
In fact, there are far more climbers than climbs.
A recent survey found that Kansas ranked 36th nationally among the states for natural-rock climbers (by percentage), with nearly 29,000 active participants.
While that number might not be overwhelming, it's not bad considering the number of suitable, legal locations for natural-rock climbing in the state: zero.
Thus, climbers must pack up their chalk bags and road trip to locations as close as Missouri or Arkansas or Oklahoma or as distant as California to enjoy their sport.
Or they can do what more than 55,500 Sunflower Staters do: climb indoors.
The same survey found Kansas ranked 15th for artificial-wall climbers.
In Zelenchuk's mind, it's not the same.
"It's completely different," he said. "When I first started climbing, I thought the wall was cool and great. Now it's different. Once I started climbing outside, I didn't want to climb up the wall. I hated it."
Or, as Eric Cloud - an avid climber and climbing contact at Sunflower Outdoor & Bike - put it: "It's like a treadmill is to running, or being out on a trail."
On the wall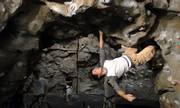 In other words, artificial climbing is a necessary evil.
"When I go to a gym, I don't go to climb," Cloud said. "I go to train."
For others, however, a climbing wall is the sole destination.
There are three walls nearby.
Kansas University students and staff can use the Student Recreation Fitness Center's 42-foot rock wall and 12-foot bouldering wall.
Other options include Monster Mountain, with its 5,000 square feet of vertical and horizontal climbing, at the Emerald City Gym in Overland Park, and the Ibex Climbing Gym, with 6,800 square feet of slab, vertical and overhanging features, in Blue Springs, Mo.
"I see people at Ibex all the time, two, three times a week, and they rarely go outside," Cloud said. "I don't know if they don't like to travel, don't trust their equipment or what, but they climb inside."
Cloud explained that indoor climbing can be safer and easier.
"Safety is built in," he said. "They're only built so high, so a fall won't be fatal. And safety measures are in place. For some people doing it just to stay in shape, climbing on plastic can be rewarding."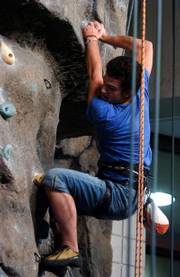 'Totally different'
Cloud doesn't go on to say it's not rewarding for him. He doesn't have to.
He gestures past the small wall upstairs at Sunflower in the climbing section of the store.
"Outside, obviously, is much prettier," Cloud says, pointing to a nearby window overlooking downtown. "Like here: Look out the window, and we've got a great view of Round Corner and the Buckle. Outside, you can have beautiful sunsets, just incredible views."
And outside there is a freedom to climbing limited only by imagination and ability.
Inside, pre-set routes are made of bolted-on plastic holds and can be marked by tape.
"Outside, there's a little more freedom," Cloud said. "Inside is more structured: Just follow the blue-tape route."
"Outside is totally different," Zelenchuk added. "Everybody has their own way of climbing. Inside, you have these routes on the wall that have been set by other people. That limits a lot how different you can climb the climb. Outdoors, you have to look up and find where the next hold is. You have to find your own way."
Hitting the road
Beyond day trips to plastic mountains, there are several destinations just a few hours by car away.
The KU club, for instance, has road-tripped to Arkansas, Oklahoma, Southern Illinois, Colorado and Kentucky.
"Travel is the funnest thing we do," Zelenchuk said. "Sometimes we do competitions and stuff like that, but travel is the funnest. We really don't have meetings that much. But we go on trips. When we do, it's cool, because we drive our personal cars. It's a great experience. You make friends and usually camp outside."
Cloud knows of what Zelenchuk speaks.
He was part of the first group of organized climbers to go through KU back in the early '90s, climbing inside old Robinson Gym when the wall consisted of little more than crude holds bolted to strictly vertical plywood sheets.
"It was pretty boring," he said.
Boring or not, it planted a seed, and though his interest has peaked and waned, it never left.
He since has been climbing in Arkansas, Colorado, Oregon and California, to name but a few destinations, and he's going to Texas in January.
"I've been to some really incredible places," Cloud said, "I probably wouldn't have been to if I weren't climbing."
Copyright 2018 The Lawrence Journal-World. All rights reserved. This material may not be published, broadcast, rewritten or redistributed. We strive to uphold our values for every story published.