Two nationally know photographers, David Hume Kennerly and Bruce Dale will lecture about their images next week at the Lawrence Arts Center.
Kennerly, who speaks Monday at 5:30 p.m., won a Pulitzer prize for his photography in Vietnam and was later President Gerald Ford's personal photographer. He has a knack for getting behind-the-scenes photographs of presidents and national and international figures. He has published several books of his photography.
Dale, who speaks at 7 p.m. Thursday, has had over 3,000 photographs published in the National Geographic magazine and Geographic books. He is a technical wizard who has mounted cameras on the tail of a 747 and captured a bullet as it penetrated a Steuben glass globe. Dale travels extensively lecturing on digital photography.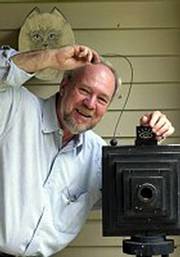 Copyright 2018 The Lawrence Journal-World. All rights reserved. This material may not be published, broadcast, rewritten or redistributed. We strive to uphold our values for every story published.