It doesn't have to be Veterans Day for a few Fort Leavenworth soldiers to pay formal, special recognition to veterans; it's almost a daily occurrence.
As members of an honor guard, it is the soldiers' duty to pay the final tribute to those who served before them, sometimes performing in as many as three or four funerals a day.
"That's a lot of funerals," Staff Sgt. Ricardo Lopez-Valle, 29, said earlier this week as he and more than a dozen members of the 705th Military Police Battalion honor guard prepared to leave for a funeral in the Kansas City area.
The 705th's honor guard is one of two at Fort Leavenworth. The other is with the Special Troops Battalion. Although funerals make up the bulk of their appearances, they also make appearances that include "presenting the colors" at sports venues and other events.
The 705th's main job is providing security at the fort's U.S. Disciplinary Barracks. About 20 of them also volunteer for extra duty serving on the honor guard.
"I just feel it is a real honor to pay tribute to those who have served before us," said Spec. Eric Polgar, 24, of Halbert, Ind., who is on the honor guard's rifle team.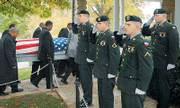 The guard is split between those on the rifle team, who perform the 21-gun salute, and those on the flag team, who carry the flag-draped casket and fold the flag for presentation to the deceased's family. Then there is a bugler and the guard leaders, Lopez-Valle, a Puerto Rican native, and Sgt. Brandon Jurczak, 25, of Sierra Vista, Ariz.
The honor guard's routines involve measured steps, salutes and movements that sometimes appear to be in slow motion. They are not difficult to learn, Jurczak said.
"There are certain steps you have to get down," said Jurczak, who has been with the honor guard for three months. "You practice a lot to make sure everybody is on the same page. You want to make sure one person isn't standing out."
Most of the funeral ceremonies are for older, retired soldiers. But the 705th honor guard also has participated in services for those killed in Iraq, most recently last month's funeral for Leavenworth High School graduate Cpl. David Unger at Fort Leavenworth.
"Obviously you go to these to keep a cold, stone face, but yeah, it's very touching," said Private E-2 Brian Lunt, of San Diego, who at 30 is one of the oldest members of the honor guard. "You know that it could be you. You just block it out. You just move on."
One of the more moving aspects of a military funeral is the playing of taps by the bugler. But soldiers who can play the bugle are so rare they usually end up in a military band. The bugle used by the 705th and many other honor guards actually has a recording played through a speaker by pressing a button on the bugle. The bugler then holds the bugle as if he were playing it.
Military funeral honors are conducted for those who meet eligibility requirements, including former military members who served on active duty and departed under conditions other than dishonorable.
In February the daughter of retired Army Lt. Willard Blair Esplin requested a Fort Leavenworth honor guard travel to Lawrence to perform a military honors ceremony for her father's passing.
Esplin's daughter, Holli Joyce, said she was grateful the honor guard granted her request.
"The service itself was important," Joyce said recently. "It was the formality of it; just the flag presentation and the way in which they did it."
The American Legion Dorsey-Liberty Post 14 in Lawrence has its own honor guard and is often asked to conduct a ceremony at Douglas County funerals, said Bill Boswell, a longtime member of the guard.
"It is an honor," Boswell said of the experience. "We feel good. You've honored a fallen comrade."
In 2005, the legion conducted 21-gun salutes at 36 funerals, Boswell said.
"A military funeral is one of the prettiest services there is," he said. "It also is one of the saddest."
Copyright 2018 The Lawrence Journal-World. All rights reserved. This material may not be published, broadcast, rewritten or redistributed. We strive to uphold our values for every story published.