A $150 lunch can be tough to swallow.
But that's what some patrons of Panera Bread, 520 W. 23rd St., have been forced to do recently. The Journal-World has received numerous reports from patrons of the restaurant that their vehicles have been towed because they parked on the wrong side of a single curb that separates Panera from the adjacent Louisiana Purchase shopping center.
"At first, I thought I had forgotten where I parked my car," said Toni Brou, who had her car towed last week and had to pay $150 to get it released from the lot of Bulldog Tow. "I was incredulous when someone finally came out of one of the shops and told me it had been towed."
The Louisiana Purchase Shopping Center has about 10 signs that alert drivers that they must be shopping at one of the center's stores to park there. It lists the eight businesses that make up the center. Neither Panera, nor any of the businesses directly west of Panera, are on the list.
But Brou said the situation is very confusing because the Panera shopping center and the Louisiana Purchase shopping center share a driveway off of 23rd Street. Brou admits that she didn't fully read the sign because she thought it was a sign designed to alert car-poolers and other people that they couldn't leave their vehicles there unless they were actually shopping in the center.
"I was certain Panera was part of the shopping center," Brou said. "I mean it all looks like one parking lot."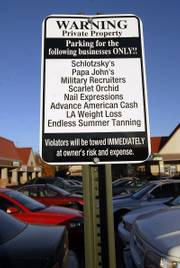 Murl Westheffer, the property manager for Louisiana Purchase, said he's sorry people are getting towed, but he has to do something to protect the shopping center. The center includes three restaurants: Schlotzsky's, Papa John's Pizza and Scarlet Orchid. His three restaurants pay for the parking spaces on the Louisiana Purchase side, while Panera does not.
"They were losing out on some of their parking spaces due to overflow from next door," Westheffer said. "Quite frankly, I was going to lose a couple of tenants if we didn't get this rectified."
The towing started about a week ago, although Westheffer said he's tried to work with the adjacent property owner for about a year. The towing has been pretty aggressive at times. Westheffer admitted that employees from Bulldog Tow are allowed to patrol the lot and watch for people who are entering stores outside the Louisiana Purchase Shopping Center.
"What's going on is absurd, but unfortunately there's nothing we can do about it," said Eric Cole, who operates the Panera Bread franchise in the area. "It just seems to be petty."
Panera leases its site. Attempts to reach the owner of the Panera shopping center were unsuccessful.
Some tenants of Louisiana Purchase are not happy about the new policy, even though it is designed to protect their parking.
"For our business, we like the traffic," said Hai Tran, an owner of Nail Expressions. "It could end up hurting business because if you get a $150 tow bill, they probably aren't coming back here."
Brou said that's exactly right.
"I'm not going anywhere near that area anymore," said Brou, who is a single mother of two young children. "It was a $7 lunch that turned into a $157 bill. That money could have come in real handy."
Place
520 W. 23rd St., Lawrence
-->
-->
Copyright 2018 The Lawrence Journal-World. All rights reserved. This material may not be published, broadcast, rewritten or redistributed. We strive to uphold our values for every story published.