Indianapolis — Reggie Wayne might be a Pro Bowl receiver in any other offense. At Indianapolis, however, he has long been the overlooked man.
With a record-setting quarterback and another record-setting receiver drawing the primary focus of defenses, Wayne has crafted his skills and his temperament to fit the Colts' needs. Rather than whine or lobby, he's learned how to get open, produce big numbers and score.
If others notice Marvin Harrison before they notice him, it doesn't bother Wayne.
"I'm the silent assassin," he said. "Really, I don't need all that because I learned from one of the best myself in Marvin."
The Colts' top two receivers have almost twin personalities.
Like Harrison, Wayne deflects attention. Like Harrison, Wayne rarely showboats. Like Harrison, Wayne would rather rely on actions rather than news conferences.
It's been a perfect fit in the perfect offense.
"He's been playing great," Peyton Manning said. "He's made play after play and his consistency is what really sticks out. His ability to catch the ball with his hands and make guys miss is great."
That's high praise coming from a two-time MVP who prides himself on his studious habits.
The results have been more than noticeable on the unbeaten Colts.
When opponents force Manning to throw to someone other than Harrison - a seven-time Pro Bowler - he has been looking more frequently for Wayne.
While Harrison has received most of the accolades - he owns the NFL's single-season record for receptions (143) and is nearing 1,000 career receptions - Wayne has made it his job to become more than a complementary receiver.
The numbers illustrate that.
Harrison ranks second in the NFL with 52 catches, while Wayne is tied for 10th with 44. Yet Wayne is second in the league in yards receiving (732), while Harrison is fifth at 698.
Over the past four games, the duo has combined for 10 touchdowns, and Wayne is making it look easy even against good defenses.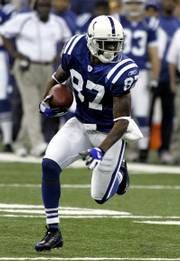 Against Denver, Wayne beat cornerback Darrent Williams for 10 catches, 138 yards and three TDs - one more than the Broncos had given up in their first six games. On a critical fourth-quarter drive, Manning connected with Wayne five times in eight plays, including a 19-yard TD pass and the ensuing 2-point conversion.
Wayne believes Harrison's mentoring has helped.
"There may be times that I'm fatigued or need a breather in practice, and I see Marvin in there. That pushes me to stay in there," Wayne said. "He's the standard in this league."
Wayne's ascent took time.
As a rookie, the Colts boasted Wayne had the strongest hands of anyone they had scouted before a season-long ankle injury lessened his impact. He finished with 29 receptions for 345 yards and no touchdowns in 2001.
The next season, Wayne changed his habits and started getting the attention of Manning.
Ever since, he's been producing Pro Bowl-caliber numbers although he's never been rewarded with a trip to Honolulu. In 2004, he had a career-high 1,210 yards and 12 touchdowns as part of the first receiving trio in league history to top 1,000 yards and 10 TDs.
Last year, Wayne did the unthinkable by dethroning Harrison as Indy's receiving leader with 83 catches. He also had 1,055 yards and five TDs.
It's enough to cause consternation for most defenses, even one designed by Bill Belichick.
"They all go long, they all go short, they are all run-after-the-catch guys," Belichick said. "They make you defend the whole field. ... It's hard. It's hard to overload one place without being light somewhere else."
The way things have gone this year, Wayne's image could be changing.
After back-to-back 1,000-yard seasons, he shares the lead for most receiving TDs in the AFC with five and had two straight 100-yard games in high-profile matchups against Washington and Denver before settling for only 90 against New England on Sunday night.
Next up: Buffalo.
But the only certainty this week is that Wayne will remain quiet - until kickoff.
"Marvin doesn't do all that extracurricular stuff, and I'm pretty much doing the same thing," Wayne said. "I just want to be consistent."
Copyright 2018 The Associated Press. All rights reserved. This material may not be published, broadcast, rewritten or redistributed. We strive to uphold our values for every story published.