Pulitzer Prize winner Edward Humes looks back at post-World War II America and wonders what happened.
"We had a government that worked and that people expected to work," Humes said. "We've left behind this idea that our government is a joint enterprise and there are some things it can do that nothing else can do - great things."
Humes, author of "Over Here: How the G.I. Bill Transformed the American Dream" will discuss laws that changed the course of American history in a lecture at 7:30 p.m. today at the Dole Institute of Politics.
Bill Lacy, Dole Institute director, said Humes contacted the Institute hoping that his book could be delivered to Bob Dole and the Institute jumped at the chance to bring the author to campus.
"We take advantage of opportunities when they slap you in the face," Lacy said.
The lecture is part of the Institute's Veterans Day celebration. It also will have a tribute to veterans at 2 p.m. Friday.
Humes in 1989 won a Pulitzer for his military reporting while working in California at the Orange County Register. He has written several true-crime books, and he's the author of several narrative nonfiction works, covering such topics as the juvenile court system and the competitive world of a top American high school.
His latest work details the significant changes spurred by the post-World War II GI Bill, featuring such figures as George McGovern and Bob Dole.
The legislation, which granted free education and other perks to veterans, transformed the nation and redefined the American dream by bringing education and home ownership into the grasp of many Americans.
As Humes points out in his book, many who benefited from the GI Bill went on to do great things, building, as Humes says, most of what is good in America today.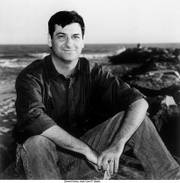 But those times have changed and the government is no longer viewed in the same way, Humes said. Americans have lower expectations from government and they're getting less, and at the same time the American Dream is fading, he said.
"Parents, if you poll them, aren't convinced that their children will lead more prosperous lives than they do," Humes said. "That's a first in America. We've always been a country where the next generation is going to do better. That's just part of the American dream, right? Now we're starting to think that's not necessarily true."
Humes called for a national conversation about spurring growth and opportunity for Americans. He pointed to the billions of dollars spent on the war in Iraq.
"We at least need to have a conversation about what would happen if we even threw a fraction of those kinds of resources into an engine of opportunity that was like the GI Bill," he said.
Area veterans day events
¢ Edward Humes, Pulitzer Prize-winning journalist and author, will discuss his book "Over Here: How the G.I. Bill Transformed the American Dream," 7:30 p.m. today, Dole Institute of Politics. ¢ A Tribute to Veterans, salute from Kansas University ROTC cadets and speech by retired Navy Capt. Buck Newsom, 2 p.m. Friday, Dole Institute. ¢ ROTC formal retreat at Strong Hall flagpole, 4 p.m. Friday, Strong Hall on KU's campus. The event will be followed by a talk by Retired Col. Dorothy Kendrick of the U.S. Marine Corps in Room 130 of Budig Hall. ¢ ROTC lamp-lighting ceremony, 7 p.m. Saturday, Budig Hall followed by a vigil on KU's campus. ¢ A parade will begin at 10:30 a.m. Saturday in downtown Leavenworth. Cavalry Buffalo soldiers will be grand marshals. ¢ Veterans Day ceremony, sponsored b Jayhawk Chapter 22 of the Disabled American Veterans, Dorsey-Liberty Post No. 14 of the American Legion and Alford Clark Post No. 852 of the Veterans of Foreign Affairs, 11:11 a.m. Saturday at the American Legion Building, 3408 W. Sixth St. ¢ A Veterans Day parade at 10:45 a.m. will kick off festivities Saturday in Ottawa. Highlights include a Civil War firing demonstration at 12:15 p.m., a World War II re-enactment at 1:30 p.m. and a USO show at 3 p.m. at Forest Park and a World War II program at 2 p.m. at the library.
Copyright 2018 The Lawrence Journal-World. All rights reserved. This material may not be published, broadcast, rewritten or redistributed. We strive to uphold our values for every story published.