STATE COLLEGE, PA. — There's at least one person Joe Paterno will take orders from: his doctor.
On the mend from a broken leg, Penn State's stubborn coach has been ordered to stay away from the field for Saturday's game against Temple.
For the first time in 29 seasons, Paterno won't be on the sideline for a Nittany Lions' game - though there's a chance he'll still be calling the shots from a coaches' box high above the field at Beaver Stadium.
Dr. Wayne Sebastianelli said Wednesday he would also prefer the 79-year-old Paterno stay off the field for next week's regular-season finale against Michigan State.
"It's in his best interest not to be on the field really for the rest of the season," Sebastianelli said at a stadium news conference.
"As far being at the game, if we can make arrangements for his leg to be elevated and comfortable, we can consider that, and frankly we're going to try to do that if we can," Sebastianelli said. That call will be a game-time decision, Sebastianelli said.
Doctors operated Sunday on Paterno to repair a fractured shinbone and two torn knee ligaments in the left leg after the veteran coach was walloped along the sideline last Saturday by two players in the second half of Penn State's loss to Wisconsin.
Paterno was listed in good condition on Wednesday at Mount Nittany Medical Center, which is just down the street from Beaver Stadium. The doctor called Paterno's release from the hospital a "day-to-day" decision and said the coach might be able to put weight on the leg in about six weeks.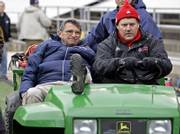 Paterno has missed only one game in his 41-year head-coaching career - in 1977 after his son, David, was involved in an accident. He also missed one game as an assistant.
Now, a broken leg could keep him off the field. Sebastianelli said any other patient with such an injury would typically need a several-week stay in a hospital or rehabilitation facility.
While Sebastianelli said that Paterno was doing well, doctors were being cautious because they wanted to prevent complications, specifically deep vein blood clots.
Paterno is trying his best to shorten the recovery time.
"Every day, he says, 'Are you sure about that six weeks? Are you sure about that six weeks?"' the doctor said. "It's going to be interesting."
Defensive coordinator Tom Bradley, an assistant for 28 seasons, said Paterno was eager to return.
"I think you guys know Joe, and patience hasn't ever been one of his virtues," Bradley said.
Sebastianelli said he expected Paterno back next season, and even allowed for the possibility the coach could be on the sideline for a bowl game as long as he was off his feet.
Paterno, who will turn 80 next month, is under contract for another two years.
Copyright 2018 The Associated Press. All rights reserved. This material may not be published, broadcast, rewritten or redistributed. We strive to uphold our values for every story published.