New York — Having a celebrity pedigree doesn't guarantee you success in the entertainment world.
Robin Thicke, son of sitcom star Alan Thicke, found that out when he released his debut album, "A Beautiful World," three years ago. Though he was hyped as the next hot star, the album, which had an R&B;/pop feel, didn't sell.
So in some ways, Thicke is starting over with his second album, "The Evolution of Robin Thicke." The album has gotten critical acclaim and this time, Thicke is hoping those reviews translate into big album sales.
The 29-year-old Thicke sat down with The Associated Press to talk about his evolution, marriage in Hollywood and why having a famous last name may not work in your favor.
Q: Why did you title your album "The Evolution of Robin Thicke?"
A: It was really about the evolution of the human spirit - overcoming obstacles, picking yourself up when you fall, believing in yourself when the odds are against you. Also, dealing with temptations and finding redemption. It's also got some sex, drugs and rock 'n' roll thrown in.
Q: Do you live the sex, drugs 'n' rock and roll lifestyle?
A: I was living it about four hours ago. The only thing that keeps me grounded is that I am so tired all of the time that I have to lay down.
Q: Your last album was critically acclaimed but not a commercial success. How did you deal with the disappointment?
A: Obviously I had a lot of fears. I had waited so long to even put a record out. I had a record deal when I was 16, but I wasted a lot of time because I was afraid - "What if people don't like my music as much as I do?" Then it wasn't a success. I fell pretty hard and I was hard on myself, and I thought of it as a failure. I didn't realize I was getting calls from Usher, Mary J. Blige, Lil' Wayne, Pharrell, yet I was seeing myself as a failure. Over time, I started appreciating that I was living my dream and working with such amazing people. Out of that came this music of a man trying to make a better life for himself, and that's what "The Evolution of Robin Thicke" is about.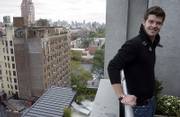 Q: Why did you title one of your songs "Cocaine?"
A: There is a little mystery to that. I don't like talking too much about the music. I want people to have their own interpretations of the songs. I wrote "Cocaine" when I was going back and forth between New York and L.A,. and I was seeing a lot of old friends and new friends, and people were disappearing into rooms and back alleys and all kinds of naughtiness. I felt like it was everywhere, so I had to write a song about it.
Q: You are a newlywed. Has marriage filled a void in your life?
A: Getting married didn't fill any void for me. To me it was just a legal term. I have been very much in love with the same lady for a long time. Nothing changed in that respect. We had solidified our universal bond a long time ago.
Q: Your wife is actress Paula Patton from "Idlewild." Is it difficult being married to someone who is also in the entertainment industry?
A: It's difficult to have two people in any business where it takes you apart and away from each other. Nobody wants to spend too much time away from the person who makes them happy. Sometimes I miss her big moments and she misses some of my big moments. You have to realize you are lucky enough to spend any time with that person.
Q: A lot of artists I interview say they want to find a mate who is not in the business. Did you ever feel the same way?
A: You would love someone to follow you around and clean up after you. The reality is when you love someone, you love them for everything they are and everything they want to be and everything they are trying to be. Real love is always compromising and always adjusting and always communicating about the things you are going through.
Q: Has being Alan Thicke's son helped you or hurt you in terms of being taken seriously as an artist?
A: Sometimes it definitely hurt me because people know too much about me. As a musician or an artist, you want to come from nowhere. You want to be a surprise. You want to sneak up on people. When they know who your father is, they immediately associate you with that as opposed to giving you your own individual light. Sometimes it is difficult. Then I was at Hot 97 (a New York hip-hop radio station) and they put me on the radio because they loved my dad. Who knew that my dad would get me on Hot 97?
Copyright 2018 The Associated Press. All rights reserved. This material may not be published, broadcast, rewritten or redistributed. We strive to uphold our values for every story published.