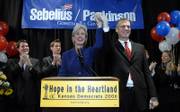 TOPEKA — Gov. Kathleen Sebelius today said health care, education and the economy will take top priority during her second term.
Sebelius, a Democrat, who defeated Republican Jim Barnett, also said the Democrats made gains in Kansas and nationally by talking about issues important to voters.
"It's important not to be red and blue states any longer, but really focus on issues that connect with citizens across this country," she said.
During her news conference, Sebelius also said she would not increase taxes, and planned to fulfill her four-year term.
On health care, Sebelius said, "I am very anxious to put that right back on the table."
Sebelius said through cost-cutting and improved technology, the state can expand affordability.
"There are ways we can use our resources more strategically and effectively," she said.
On public school education, Sebelius said she will seek to increase early childhood education and all-day kindergarten.
She also said she wants to work on higher education "which has kind of been a little bit on the backburner while we focused on K-12.
"It's clear that Kansas kids need postsecondary degrees. We need to make it easier for kids to attend college, we need to look at vocational education."
On the economy, Sebelius said rural development, alternative energy and management of water resources will be key.
On the national level, she said voters were disastisfied with Congress while supporting what was happening in state government.
"Voters really made some very specific choices about what was happening at the state or local level and what was happening nationally," she said.
Copyright 2018 The Lawrence Journal-World. All rights reserved. This material may not be published, broadcast, rewritten or redistributed. We strive to uphold our values for every story published.