Washington — Resurgent Democrats won control of the House and challenged the Republicans' grip on the Senate in midterm elections, riding a powerful wave of public anger over the war in Iraq and scandal at home.
"Mr. President, we need a new direction in Iraq," said California Democratic Rep. Nancy Pelosi, celebrating her party's return to power - and her own ascension as first female speaker in history.
Aided by public dissatisfaction with President Bush, Democrats won gubernatorial races Tuesday in New York, Ohio and Massachusetts for the first time in more than a decade, then put Colorado, Maryland and Arkansas in their column as well.
Bush monitored the returns from the White House as the voters picked a new Congress certain to complicate his final two years in office. He arranged to call Pelosi this morning, then have an afternoon news conference.
"They have not gone the way he would have liked," press secretary Tony Snow said of the election returns.
Charlie Crist was a rare bright spot for Republicans, winning the Florida governorship now held by the president's brother Jeb. GOP Gov. Arnold Schwarzenegger won a new term in California, the nation's most populous state.
But that was cold comfort for the Republicans, who have controlled the White House and both houses of Congress for most of the time since Bush took office and used their majority to pass large tax cuts and back the war in Iraq.
By 1 a.m. today in the East, Democrats had picked up more than 20 House seats now in Republican hands, in all regions of the country. That was well above the 15 they needed to end a long turn in the minority, although the size of their majority depended on numerous races yet uncalled.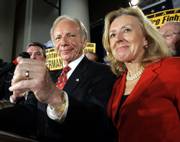 If the battle for House control was settled, not so the Senate struggle.
Democrats won Republican Senate seats in Pennsylvania, Rhode Island and Ohio, defeating Sens. Rick Santorum, Mike DeWine and Lincoln Chafee.
But they came up short in Tennessee as Republican Bob Corker won a hotly contested race, defeating Rep. Harold Ford. Jr., in a vote count that went past midnight.
That left three races - Virginia, Missouri and Montana - unsettled, and Democrats needed to win all of them to complete their sweep of Congress.
In Virginia, Republican Sen. George Allen and Democratic challenger Jim Webb were locked in a seesaw race with only a small number of precincts to report.
In Missouri, Sen. Jim Talent held a slender lead over Democratic challenger Claire McCaskill with more than 70 percent of the precincts counted.
Montana Sen. Conrad Burns, seeking a fourth term, trailed Democrat Jon Tester.
Indiana was particularly cruel to House Republicans. Reps. John Hostettler, Chris Chocola and Mike Sodrel all lost in a state where Republican Gov. Mitch Daniels' unpopularity compounded the dissatisfaction with Bush.
Republican Rep. Nancy Johnson lost in her bid for a 13th term in Connecticut; Anne Northup fell in Kentucky after 10 years in the House; and Rep. Charles Taylor was defeated in North Carolina.
Scandal took its undeniable toll on the Republicans. Democrat Zack Space won the race to succeed Bob Ney, who pleaded guilty to corruption this fall in the Jack Abramoff scandal. Republican Rep. John Sweeney lost his seat in New York several days after reports that he had roughed up his wife - an allegation she denied. Republicans also lost the seat that Rep. Mark Foley had held. He resigned on Sept. 29 after being confronted with sexually explicit computer messages he had written to teenage pages.
Rep. Don Sherwood lost despite apologizing to the voters for a long-term affair with a much younger woman; and Rep. Curt Weldon, also from Pennsylvania, was denied a new term after he became embroiled in a corruption investigation.
The GOP also lost the Texas seat once held by former Majority Leader Tom DeLay.
Surveys of voters suggested Democrats were winning the support of independents with almost 60 percent support, and middle-class voters were leaving Republicans behind.
About six in 10 voters said they disapproved of the way Bush is handling his job, that the nation is on the wrong track and that they oppose the war in Iraq. Voters in all groups were more inclined to vote for Democratic candidates than for Republicans.
Over half of the voters registered dissatisfaction with the way Republican leaders in Congress dealt with Foley. They voted overwhelming Democratic in House races, by a margin of 3-to-1.
The surveys were taken by The Associated Press and the networks.
History worked against the GOP, too. Since World War II, the party in control of the White House has lost an average 31 House seats and six Senate seats in the second midterm election of a president's tenure in office.
Copyright 2018 The Associated Press. All rights reserved. This material may not be published, broadcast, rewritten or redistributed. We strive to uphold our values for every story published.