Nashville, Tenn. — Kenny Chesney won entertainer of the year and Brooks & Dunn's inspirational song "Believe" won three trophies, including single and song of the year, Monday night at the 40th Annual Country Music Assn. Awards.
"This year has in ways been the most emotionally satisfying year and also the most emotionally draining year of my life," said Chesney, who went through a high-profile marriage and split with actress Renee Zellweger in 2005. "There have been so many ups and downs, it's been like a huge, emotional roller-coaster ride."
Chesney also won the honor two years ago.
One of the night's more poignant moments came from a winner who wasn't even there: Keith Urban.
The Aussie country star, who last month entered a rehabilitation center for alcohol abuse, won male vocalist of the year for the second year in a row.
When Urban's name was announced, he received a standing ovation, and his award was accepted by Ronnie Dunn.
Dunn read a letter from Urban in which he thanked his friends and family and actress-wife Nicole Kidman, whom he married earlier this year: "To my wife, Nicole, I love you."
"I'm looking forward to coming home and seeing you all soon," Urban said in the letter.
Dunn added: "We love you, Keith. Good luck, brother."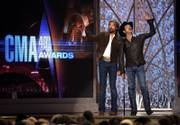 Besides accepting the award for Urban, Dunn was busy accepting awards and hosting the show with his partner, Kix Brooks. The pair won music video of the year for "Believe" and opened the night by performing "Building Bridges" with guests Vince Gill and Sheryl Crow.
"This has been another huge year for country music," Kix Brooks said. "Tonight, we're here together to show off what it's really all about, and that's the greatest music on the face of the Earth."
The gospel-tinged "Believe" was co-written by Ronnie Dunn and Craig Wiseman, who also co-wrote Tim McGraw's smash "Live Like You Were Dying." Dunn and Wiseman won song of the year honors for "Believe."
"Every time it comes on the radio now I have to pull over, like I'm hearing it for the first time," Wiseman said backstage of "Believe." "Ronnie really brought something to that song that's something beyond."
As expected, Brooks & Dunn also won vocal duo award. The group has owned the category since 1992, winning every year except in 2000 when Montgomery Gentry won.
"American Idol" winner Carrie Underwood won female vocalist and the Horizon Award.
"Two years ago I was sitting at home watching these very awards and watching all these other people win and having the best night of their life, and this is the best year of my life," Underwood said through tears.
Backstage, she said she was pleased to be nominated, let alone win two. "I would have taken male vocalist if they had given it to me," she joked.
The multiplatinum band Rascal Flatts took the vocal group award, capping what singer Gary LeVox described as an "amazing year."
Brad Paisley, who was shut out last year despite six nominations, won album of the year for "Time Well Wasted."
CMA winners
Here are the winners at Monday's 40th annual CMA Awards:
Entertainer of the Year: Kenny Chesney
Single: "Believe," Brooks & Dunn
Album: "Time Well Wasted," Brad Paisley
Song: "Believe," Craig Wiseman and Ronnie Dunn
Female Vocalist: Carrie Underwood
Male Vocalist: Keith Urban
Vocal Group: Rascal Flatts
Vocal Duo: Brooks & Dunn
Musical Event: "When I Get Where I'm Going," Brad Paisley and Dolly Parton
Musician: Randy Scruggs
Music Video: "Believe," Brooks & Dunn
Horizon Award: Carrie Underwood
Copyright 2018 The Associated Press. All rights reserved. This material may not be published, broadcast, rewritten or redistributed. We strive to uphold our values for every story published.