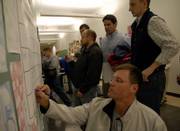 Elementary schools traditionally aren't a place where you'll find many adult men.
However, a new program getting started at Langston Hughes School is designed to bring more fathers - and father figures - into the classroom each day.
Called Watch D.O.G.S., it's a national program designed to help provide increased security and additional help for students each day.
"D.O.G.S. stands for Dads of Great Students," said Peter Graham, a Langston Hughes father who is "lead dog" for the project. "The goal is to get fathers involved in their children's lives."
Graham and more than 100 dads turned out for an informational meeting and pizza party Thursday at the school.
"Our goal is to get one dad, at least, every day," Graham said. "The idea is that they're present from the moment the kids are getting out of their cars or getting off the bus."
From there, it's on to help out in the classroom or patrol the halls. They also eat lunch with the students. They help at recess and patrol the halls.
"The idea is that fathers don't get into their kids' lives as much as they should," Graham said.
The program was created in response to the Jonesboro, Ark., school shooting in 1998. Since then, Watch D.O.G.S. has expanded into more than 30 states, said Lisa Williams Thompson, Langston Hughes principal.
Dads are encouraged to sign up for a day beginning the week of Nov. 13, Thompson said.
"I'm real excited about it. I think it's going to be a great opportunity to get more dads involved," she said.
Dale Koerner, a fifth-grade teacher at the school, said he thought it was a good way to get fathers into the school as male role models.
Koerner said most male teachers work at the junior high or high school level, so students don't see many men in their elementary schools.
For example, just less than 13 percent of the elementary classroom teachers in Lawrence are men - 39 males, compared with 291 females, said Bob Arevalo, the school district's director of personnel.
Diane Knapp, president of the school's parent-teacher organization, had a friend from Arkansas who told her about the program.
"I think it's going to be awesome," Knapp said. "Children are so excited to see their dads involved in school."
Lisa Williams Thompson, principal at Langston Hughes Elementary School, talks about the new Watch D.O.G.S. program
One is Olya Helt, a sixth-grader.
"I think it's going to be a lot of fun," Olya said. "My dad is great at math, and I struggle with math so he can help me a lot with that."
Kyle Rainey, a sixth-grader, said the program also will help the dads.
"They can understand their child because they'll be around them more," Kyle said.
Copyright 2018 The Lawrence Journal-World. All rights reserved. This material may not be published, broadcast, rewritten or redistributed. We strive to uphold our values for every story published.