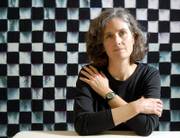 Mary Anne Jordan believes everyday fabric tells stories.
A dish towel and its stains might bring to mind a grandmother's toil in the kitchen. A kerchief might conjure images of a farmer wiping his brow.
These inherent stories lend cloth an automatic depth, which is part of the reason Jordan uses it to make art.
"I like being able to layer those ideas," says Jordan, 49, an associate professor of design who joined the Kansas University faculty in 1989.
Most recently, Jordan has been making fine art quilts. They hang on the wall and bear simple, graphic forms, such as checkers, concentric circles and stripes. She hand-dyes all the fabric, intentionally letting the dye run and smudge, and uses a sewing machine to finish the pieces with quilting stitches.
"One of the other things I think about a lot while I work is the human mark," Jordan says. "That's, in part, why I have made the dyes run, to make things look like a human did them, a human mark rather than something very computerlike or machinelike."
Photo Gallery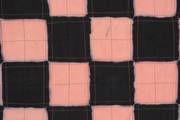 Mary Anne Jordan artwork
Jordan exhibits her work at galleries, museums and universities on the East Coast and in the Midwest, routinely contributing to the KU Faculty Show. She also teaches several classes each semester, serves as a thesis chair for master's candidates and advises students in the textiles program.
Her reach extends beyond the hill. Jordan volunteers time each year to Van Go Mobile Art's JAMS program for at-risk youths. One year she taught a course on indigo-dyeing. Since then, she chips in where she can. Right now she's sewing some of the kids' paintings into pillows to sell at their next exhibition.
"She's a really gifted artist, but most of all she's a gifted teacher as well," says KU design department chairman Gregory Thomas, who nominated Jordan. "For somebody that practices their art and teaches their art, she leads the pack here."
Copyright 2018 The Lawrence Journal-World. All rights reserved. This material may not be published, broadcast, rewritten or redistributed. We strive to uphold our values for every story published.