Oaxaca, Mexico — Rickety buses and cars carrying leftists from across Mexico rolled into Oaxaca's university Saturday to join protesters preparing for a massive march to confront police.
Demonstrators plan to march today from the university to police encampments in the center of the city as part of their five-month protest to oust the state's governor.
At least nine people have died since August in the unrest, which has rattled outgoing President Vicente Fox's administration. The planned march has sparked fears of more violence in the colonial city that once was one of the country's main tourist attractions.
Protest leader Flavio Sosa, who is wanted by state police on conspiracy and riot charges, said the marchers will not look for a fight today, but he fears police may provoke one.
"Our enemies carry out murders, persecution and arbitrary arrests," Sosa said. "We have the right to defend ourselves."
Mexico's largest leftist group, the Democratic Revolution Party, has said it would join the protesters who want to form human chains around federal police detachments that enter the city.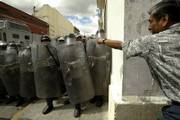 The public university of 30,000 students in this southern city has been transformed into a stronghold for protesters since Fox sent in thousands of federal police last month to drive protesters from the city center, which they had seized. The demonstrators poured onto the campus after the police pushed them out of the main plaza, where they had camped out for months.
Masked men armed with bats and gasoline bombs patrolled the university's gates Saturday, while the student radio station blared pleas to fight police. The lawns were filled with barbed wire and booby traps.
There have been no classes at the school this week, just talk of revolution, the building of makeshift weapons and drawn-out fights with police.
"The university has always been a center of progressive thinking, so it's natural that it has become the center of our revolt," Sosa said.
Federal police, who tried but failed Thursday to clear barricades on a street just outside the university, are not allowed to enter the campus under a law designed to protect academic freedom.
Copyright 2018 The Associated Press. All rights reserved. This material may not be published, broadcast, rewritten or redistributed. We strive to uphold our values for every story published.