Politicians were heroes in the 18th and 19th centuries, and their pictures often were found decorating household goods such as fabrics for quilts or curtains, dishes, figurines, sculptures, even furniture and glassware. A famous pair of copper-luster pitchers was made during the 1840 William Henry Harrison presidential campaign against incumbent President Martin Van Buren. Each candidate was shown in an inset on a pitcher in the newest style of the day - a rounded shape with curved handle and edges. Harrison, the Whig party candidate, won and was president for less than four months. He died April 4, 1841, and Vice President John Tyler became president. Few of those pitchers still exist. One sold in 1996 for $2,090; another sold last month at a Heritage auction in Dallas for $8,625.
Q: I have my grandmother's 1936 Brandt Furniture Co. "Warfield" mahogany drop-leaf table with five extra leaves and six chairs, including one armchair. Can you give me any information?
A: Brandt Furniture Co., founded in Hagerstown, Md., in 1901, closed in 1985 but reopened a few years ago. The company attracted some unwanted publicity in the early 1950s when Ethel and Julius Rosenberg were on trial for espionage. A piece of evidence was a photograph of a Brandt console table in their house, where they supposedly photographed nuclear secrets.
Q: A friend of my mother's gave her a color snapshot of President Kennedy in his limousine just moments before he was assassinated. The friend had actually witnessed the event. Does the photo have any value?
Current prices
Current prices are recorded from antiques shows, flea markets, sales and auctions throughout the United States. Prices vary in different locations because of local economic conditions. ¢ New York World's Fair handkerchief, 1939, purple, red, blue, green, yellow and black, picture of couples in multinational costumes, 9 3/4 x 9 1/2 inches, $15. ¢ 1941 Boy Scout calendar, "A Scout Is Helpful," Norman Rockwell, full pad, 8 x 14 inches, $80. ¢ Pisgah Forest Pottery teapot, buff-color ground, purple glaze, impressed mark, 1946, 5 x 9 inches, $175. ¢ Pinocchio doll, jointed, wood, original tag dated 1939, Kreuger, 16 inches, $285.
A: Every photograph - professional or amateur - known to have been taken of John F. Kennedy's Dallas motorcade on Nov. 22, 1963, has been cataloged and archived by historians. Most have been copyrighted and reproduced multiple times. Do some research to see if your photo is among those. You also might want to contact the Sixth Floor Museum at Dealey Plaza, the Dallas museum with archives that are available for research. The monetary value of your snapshot is not high, but it might be of historic importance.
Q: While cleaning out my basement, I found a 10-inch, copper-coated ceramic vase marked on the bottom, apparently by hand, with these words: "American Institute Junior Science Hall, World's Fair, NYC 1939, Westinghouse Building." My father worked for Westinghouse for many years, and I have several items from the company's pavilion at the fair. But I can't figure out this item.
A: We can guess, but a reader might know more. The American Institute of the City of New York for the Encouragement of Science and Invention introduced its first Children's Science Fair in 1928. The idea took off, and in 1938 it was renamed the Junior Science Fair. The American Institute's exhibit at the New York World's Fair was housed in the Westinghouse Pavilion. It included a student laboratory called the Junior Science Hall, where children between the ages of 12 and 18 could take part in science activities. Your vase might have been made in the science hall or used there for some kind of experiment. Collectors prefer 1939 Fair souvenirs that picture the famous Trylon and Perisphere buildings.
Q: I have a 6-foot statue of Lucy from the Peanuts comic strip. She's dressed in pink with a beanie on her head. Is there a market for this type of collectible?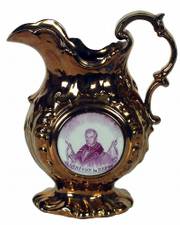 A: In October 2002, 56 Lucy Van Pelt statues made for the "Looking for Lucy" public art project in St. Paul, Minn., were auctioned at the Mall of America, the huge shopping mall just outside the Twin Cities. Statues of other Peanuts characters were also created for public art projects in St. Paul, where the comic strip's creator, Charles Schulz, began his career. Many of them have been sold at auction, some online by Sotheby's. Prices for the Lucy statues range from $2,000 to $19,000.
Q: I have owned an antique, nonelectric Doty of Dayton vacuum for many years. It is cast iron and operates using a bellows. I had never been able to find any information about it, and then a few years ago I saw one at the Henry Ford Museum in Dearborn, Mich. The museum labeled it as a 1910 machine. Can you tell me what it might be worth?
A: Melville Reuben Bissell refined the design of the home carpet sweeper in the 1870s, but mechanical vacuum cleaners that could be operated by one person for home use weren't invented until the first decade of the 20th century. Inventors experimented with all types of suction mechanisms, including bellows and hand pumps. Doty Manufacturing Co. of Dayton, Ohio, was one of several early manufacturers of suction machines. Many of these machines are still around. They sell for $25 or less.
Copyright 2018 The Lawrence Journal-World. All rights reserved. This material may not be published, broadcast, rewritten or redistributed. We strive to uphold our values for every story published.