Florence, Italy — Madonna and child. Assorted saints with halos. The paintings hang in rows from huge metal racks awaiting their fate in storerooms 40 years after they were battered and torn by the raging floodwaters of the Arno.
"Here's a desperate case," said art historian Maria Matilde Simari, as she slid out a rack at the riverside church of San Jacopo Sopr'Arno that was supporting an 18th-century painting depicting St. John. A plastic bag holds a large patch of detached paint.
The canvas was pummeled when the rain-swollen river raced through this Renaissance city on Nov. 4, 1966, rushing into homes, businesses, museums and churches, claiming 17 lives and destroying or damaging thousands of centuries-old art works and rare books.
Close to 200 paintings still await restoration, victims of scarce funding, although the major works are nearly all done, said Florence's art superintendent, Bruno Santi.
In November 1966, three days of torrential rain forced rivers throughout northern and central Italy to overflow their banks. In the lagoon city of Venice, sea waters rose nearly 6 feet above normal, forcing the evacuation of 3,000 people and setting off an alarm for that city's art.
In Tuscany, the Arno tore through the heart of Florence in the early hours.
It pains Simari that some paintings are in storeroom limbo. The art historian, who works for Santi's office, was 13 when she watched from her second-story window as the Arno thundered through her narrow street.
"There were cars rolling by, furniture. You saw the entire contents of homes rolling by," Simari said. "The water had this incredible force."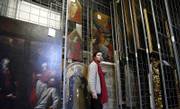 Simari surveyed the canvas of St. John. The flood robbed much of the canvas of whole swatches of color, but "it could be put back together. With today's restoration techniques you can do it," she said. "But it will cost some $7,500, and it's not the only one."
Santi said: "If we could do 30 artworks a year, we would be done in five, six years."
But because funds also cover care of artworks unscathed by the flood, including masterpieces in museums whose tourists bring in badly needed revenue, it likely will be another decade before all the pieces that can be restored are tackled, Santi said.
One of the last major works to be restored is Giorgio Vasari's 16th-century "Last Supper," whose wood panels recently lay on separate tables in the cavernous Fortezza da Basso, a Renaissance fortress that is home to the state-sponsored Restoration Laboratory. The large work measures 20 feet by 8.5 feet.
The thin layer muting the colors of one panel consists of white facial tissues applied in the first hours after the flood in an improvised attempt to prevent the paint from washing away, explained Cecilia Frosinini, who helps direct painting restoration at the laboratory.
"With the 40th anniversary approaching, we decided to tackle the big 'cadavers' lying in the storerooms," Frosinini said.
The museum is home to Cimabue's 14th-century "Crucifix," which became the symbol of Florence's devastated masterpieces. After water surged some 16 feet high in the Santa Croce refectory, monks used pasta colanders in a desperate attempt to catch fragments of paint.
Racing against time, restorers applied a chemical solution to try to save the remaining color, but that caused the paint to become brittle.
Many mistakes were made in the first frantic hours after the flood.
"I was one of those ripping off the wood backing from paintings" in a bid to keep warping wood from splitting the layer of color, said Ciro Castelli, who is part of the laboratory team restoring the last major artworks.
Restorers later perfected techniques allowing them to gently slice away the original wood behind a painting's layer of color so that the restored work can later be reattached to its original backing.
The legacy of the flood "was a huge acceleration in restoration from highly skilled artisan work to high technology with the contribution of science and research," said one of Castelli's colleagues, Roberto Bellucci.
Simari said many minor, but still artistically or historically interesting pieces, likely will never be restored, including those that are tagged "origin unknown."
Copyright 2018 The Associated Press. All rights reserved. This material may not be published, broadcast, rewritten or redistributed. We strive to uphold our values for every story published.