Atchinson — Before Eudora High's second-round game of the Kansas Class 4A state football playoffs against Atchison, coach Gregg Webb said the opposing Red Men had the potential to light up the scoreboard.
So throughout the game, the Cardinals sideline was waiting for that sudden offensive explosion from Atchison. And with four minutes remaining it happened - a 90-yard pass play for a touchdown.
But a little over three minutes later, with just 40 seconds left, the Cardinals offense lined up in a way that had the Eudora sideline cheering - victory formation to kneel the ball and claim a 20-12 victory.
"It was kind of a grind-it-out football game, and we needed it to be that way because we didn't want to try to get into a track meet with this bunch," Webb said.
The Cardinals took the opening drive 57 yards - set up by a 38-yard return by Matthew Abel - to take the lead on a two-yard run by Travis Clarke, and Eudora never surrendered that lead.
On their next possession, the Cardinals gave the Red Men a heavy dose of Clarke - that was the gameplan all night - and took just five plays to score on a 38-yard pass from Kent Swanson to Clarke - who also had a 24-yard run on the second play of the drive.
"The last three games, the offense hasn't been playing so well, and our defense has been giving us our wins," Clarke said. "But tonight, they had a really good offense, so the defense had to play their part. And we had to score our points tonight, because they're a good enough team that, if we didn't score like we have been in the past, they'd beat us."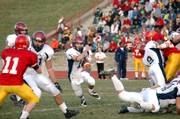 The run game was so successful that Eudora passed for just one of its 16 first downs. It came during the first drive of the game on a quick screen from Swanson to Abel for 17 yards.
Despite the predictability of the Eudora offense, Atchison could not contain the rushing attack in the second half. The Cardinals did not throw a pass in the final two quarters, electing to run it 34 times for 155 yards - 109 of which came from Clarke.
A large part of the credit goes to the offensive line headed by Richard Wilks and Tim Durkin. Though Webb said he still wasn't satisfied with the play of the linemen, he said they definitely performed better than in Tuesday's 47-13 victory over Kansas City Piper.
"We showed up tonight. We decided to play tonight," said Durkin, who played despite spraining his ankle in the Piper game. "We haven't really played in the last couple of weeks, and we just came out and played tonight. We just got pumped up. We knew that this was it - if we didn't play hard, they would beat us."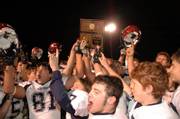 While Clarke scampered for 215 yards with two rushing touchdowns - combine that with his 38 yards receiving and he was responsible for 79 percent of Eudora's offensive production - his most important run came in the final minutes.
Holding onto an eight-point lead, Eudora recovered the late onside kick and simply needed to run out the clock. On a third-and-three, Clarke surged outside for a five-yard gain - and stayed inbounds - and four plays later Swanson was taking a knee.
"I didn't think Travis ran all that hard," Webb said. "He was waiting on the hole, and that goes back to not trusting the offensive linemen that I've yelled at for the last three weeks. So he's a little hesitant because he's not sure where that missed block is coming from. ... But in the second half, he ran harder. He ran better because I told him to at the half."
Eudora will play Friday at Girard.
"We'll have to play our best game to win that game," Webb said. "I wish we were playing our junior high team for that trip to sub-state, but you play who you play, and there's some awfully good 4A teams left."
Eudora 20, Atchison 12
Eudora 0 12 8 0 - 20
Atchison 0 6 0 6 - 12
E - Travis Clarke 2 run (pass failed)
E - Clarke 38 pass from Kent Swanson (run failed)
A - J.J. Wolters 6 run (run failed)
E - Clarke 3 run (Clarke pass from Swanson good)
A - Andre Harris 90 pass from B.J. Young (kick failed)
Copyright 2018 The Lawrence Journal-World. All rights reserved. This material may not be published, broadcast, rewritten or redistributed. We strive to uphold our values for every story published.