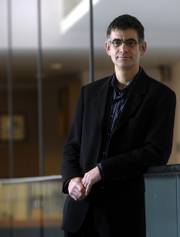 Lawrence architect Dan Sabatini designs buildings.
But he doesn't get his inspiration from looking at other buildings. Not entirely, anyway. Instead, he taps the arts as his muse.
"It seems like the creative juices get flowing when you're watching or seeing or participating in art," Sabatini says. "The arts are the last thing people seem to realize are probably the best thing for a community to grow and to be enriched."
Sabatini grew up with the arts. His mother was a painter, and he started dancing while in high school in Topeka and later performed at the Lawrence Arts Center and with a few semiprofessional companies in Kansas City.
So, he says, it just seems natural to support the Lawrence arts community. Sabatini serves on the boards of the Spencer Museum of Art and the Lawrence Arts Center. He also sits on the Architecture Advisory Board and the Art & Design Advisory Board at Kansas University, his alma mater.
His sponsorships help fund the Lawrence Own-Your-Own Art Show, the Lawrence Indian Arts Show and projects at Van Go Mobile Arts.
He even started a scholarship for budding dancers through the arts center.
"To do dance at a higher level, it really involves five to six days a week or more, and that's a very expensive proposition," says Sabatini, 44. "I wanted to make sure children had the opportunity if they were interested."
The Carmine Ballere Scholarship, named in honor of Sabatini's grandfather, funds four ballet technique classes a week at the arts center and participation in the annual holiday show.
Kansas University student Rachel Sanner received the scholarship in 2001 and says it encouraged her to pursue dance as a major and career.
"Dance has become an integral part of my life," Sanner says, "and I thank him for all that he has done for the dance community in Lawrence."
Copyright 2018 The Lawrence Journal-World. All rights reserved. This material may not be published, broadcast, rewritten or redistributed. We strive to uphold our values for every story published.