Dallas — Mark Cuban is ready to do whatever David Stern wants. Really. Honestly.
He promises. A lot.
Stay away from huddles? No problem.
Support overseas expansion ahead of building the product in the United States? Done.
Stop coming up with innovations like the multisided 24-second clock and hiring independent shot-clock operators in the playoffs? He's already excited about the extra free time he'll have.
"I'm reborn," the owner of the Dallas Mavericks said Thursday night during his usual pregame workout. "It's no longer Mark Cuban, the benefactor. It's Mark Cuban, David Stern disciple. And I say that with all seriousness. ...
"I used to spend a lot of time trying to really learn the details and the numbers, doing a lot of research, because I was cynical and skeptical. I've lost all that cynicism and skepticism. It's all gone. Sarcasm? There's no sarcasm."
Cuban spoke for nearly 30 minutes before Dallas' 97-91 loss to San Antonio in the season opener, explaining how eager he is to comply with Stern's new guidelines for team owners.
The more he talked, the less sincere he seemed.
"Now I have new aspirations beyond winning the title in the NBA, and that's to fit in and be like everybody else," Cuban said. "They're smarter, they're better, they're prettier, in better shape, they have nicer teeth."
Stern was in Toronto on Friday night for the Raptors-Bucks game and eagerly played along with Cuban's tone - even keeping a straight face while saying he didn't think there was any sarcasm involved.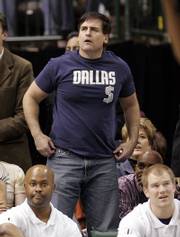 "Because I was in Canada, I saw it differently," Stern said.
Playing along, Stern called it "terrific" that Cuban is ready to be a good boy.
"I think he's well advised to do that," Stern said. "I applaud his sagacity in making that decision."
Stern even got in a shot about Cuban looking up to his fellow owners: "There's a humble man," the commissioner said.
The latest round of the Cuban-Stern saga started when Cuban learned of Stern's plan to impose a list of dos and don'ts for owners. It's already being calling the Cuban Rules.
Following a meeting he intentionally avoided, Cuban said the league sent an e-mail saying "non-coaches or personnel are not allowed in the huddle or in the proximity of the huddles."
It did not specifically say owners, nor was he used as an example. Still, there's no doubt he was the target.
Cuban vows following orders will be easy.
"I'll just keep a little diary," he said. "If I get that old urge to yell at the officials, I'll just write it in the diary at the end of the night, just purge all that anxiety because I know that they'll fix it. Everybody's human, everybody makes mistakes. But they'll fix it. They're that good."
Cuban said he's ready to learn from other owners because, while building his fortune, he must have "got lucky the first time, the second time, the third time, the fourth and the fifth time."
"I just didn't see the light," he said.
Copyright 2018 The Associated Press. All rights reserved. This material may not be published, broadcast, rewritten or redistributed. We strive to uphold our values for every story published.