KNOXVILLE, TENN. — LSU can forget last year's disappointment against No. 8 Tennessee. The No. 13 Tigers have their own comeback to celebrate.
JaMarcus Russell hit Early Doucet with a 4-yard touchdown pass with 9 seconds left to give LSU a 28-24 win over the Volunteers on Saturday, and end the Volunteers' chances of winning the Southeastern Conference title.
Russell's third touchdown pass of the game gave the Tigers (7-2, 3-2 Southeastern Conference) their first road win of the season and revenge for last year's Volunteers' victory at Tiger Stadium.
"Our guys will remember this one," LSU coach Les Miles said. "If you wanna define who we are, if you wanna write who we are, that's who were are right there."
Last year in Baton Rouge, La., in LSU's first home game after hurricane Katrina and Rita, the Vols overcame a 21-point deficit to win 30-27 in overtime.
On Saturday, No. 8 Tennessee (7-2, 3-2) almost got another comeback. The Vols went ahead 24-21 after redshirt freshman Jonathan Crompton, playing for injured starter Erik Ainge, completed a 54-yard touchdown pass to Robert Meachem with 7:29 remaining.
The Tigers got the ball back with plenty of time, and Russell methodically led them down the field, milking the clock all the way.
Russell appeared to score on a run from the Tennessee 7 when he flipped into the end zone, but officials ruled he was out of bounds at the 4. On the next play, Doucet caught Russell's pass in the end zone, a throw intended for Dwayne Bowe.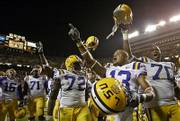 LSU's sideline erupted and spilled onto the field. Order was restored for the kickoff, but Tennessee only had 5 seconds to score. Not enough.
Russell finished 24-for-36 for 247 yards. He also ran for 71 yards.
The LSU players and coaches stayed afterward to celebrate with their fans. It was the Tigers' second win in Neyland Stadium, and they had to overcome four turnovers to earn it.
"I was still in the game. I knew I just had to go out and fight and sacrifice my body and myself and be willing to do whatever it takes to help my team," said Russell, who had three passes intercepted.
LSU's top-rated defense made it tough for Crompton and the Vols' offense.
The Vols were held to 248 total yards and had the ball for less than 19 minutes. LSU rolled up 478 yards.
"It will hurt tonight and we can allow it to maybe hurt tomorrow, and then come Monday we have to get ready to go to Arkansas and play and win that game," Tennessee coach Phillip Fulmer said. "This team still has a lot to look forward to."
The loss ended Tennessee's chances of chasing down Florida in the East division race. The Gators' victory over Vanderbilt combined with the Vols' loss gives Florida a spot in the league championship game.
Copyright 2018 The Associated Press. All rights reserved. This material may not be published, broadcast, rewritten or redistributed. We strive to uphold our values for every story published.