CHAMPAIGN, ILL. — Ohio State started comfortably and appeared in control. By the end, the top-ranked Buckeyes were getting their first real scare of the season.
"I don't know what (being the) overwhelming favorite does for us. It doesn't spot us any points, or get us any first downs," Buckeyes coach Jim Tressel said Saturday after his team built a 17-point halftime lead and hung on to beat stubborn Illinois 17-10.
"So what does it say that we got taken against the wall? Everybody can get taken against the wall," Tressel said.
The Buckeyes (10-0, 6-0, Big Ten) had won each of their first nine games by at least 17 points, but let this one get close, just as rival Michigan did earlier in the day against Ball State.
"A win is a win any which way you look at it," said Ohio State quarterback Troy Smith, who threw for only 108 yards. "Whether you score 50 points or 17 - not the way you want to - who cares? We won today and will continue to grow."
Rashard Mendenhall's 3-yard TD run with 1:40 to go brought Illinois within seven and after Ohio State's Brian Robiskie's recovered an onside kick the Buckeyes couldn't run out the clock.
"I told the guys on Thursday it's going to come down to an onside kick. It's a critical play," Illinois coach Ron Zook said. "When I saw the ball in the air I really thought we were going to get it, but it wasn't meant to be."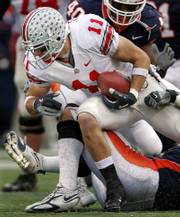 A.J. Trapasso's 55-yard punt gave the Illini (2-8, 1-5) got the ball at its own 2 with four seconds left and 98 yards to go. But there was no miracle. The Illini completed a short pass to Derrick McPhearson, who lateraled to E.B. Halsey, who lateraled it back to McPhearson, who was ruled out of bounds at the 19, even though he lateraled once more.
Illinois didn't play like a team that has lost five straight. The Illini clamped down on the Buckeyes' running game and did a stellar job of containing Smith. The Heisman Trophy contender completed 13 of 23 passes and rushed for 37 more on 11 carries. He was sacked three times.
Illinois had a 233-224 advantage in total yards and held Ohio State to its fewest points, total yards and passing yards this season.
"We knew, as a team, they were pretty much going to give us everything. This was pretty much their shot of doing something big, ending their season on a positive note, knocking us off," Smith said.
Short TD runs by Chris Wells and Antonio Pittman gave the Buckeyes a halftime lead.
"When the No. 1 team in the country comes in, it's a great challenge," Illini defensive tackle Chris Norwell said. "I think we just basically executed better in the second half."
Trailing 17-0, the Illini moved into Ohio State territory in the fourth quarter for the first time all game.
Copyright 2018 The Associated Press. All rights reserved. This material may not be published, broadcast, rewritten or redistributed. We strive to uphold our values for every story published.