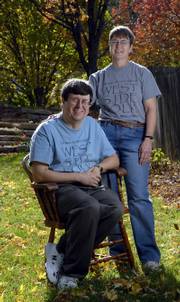 In 1994, Bob and Trish McWilliams played host to a potluck in their basement for a concert by an obscure Australian singer-songwriter.
Only a dozen people showed up. But the McWilliamses had started something big.
"We had no idea what this would turn into," Trish McWilliams says. "We were just having some concerts and potlucks at our house."
Now a dozen years later, those laid-back concerts have become a regular concert series - West Side Folk - that has put on about 200 concerts and continues to expose northeast Kansas to both new and established acts in acoustic and folk music.
"To be able to hear those musicians live is a really nice public service they do," says Judy Veatch, a West Side Folk board member. "I just feel like the two of them together have created something really special here in Lawrence."
Bob, 51, is host on "Jazz in the Night" and "Trail Mix" on Kansas Public Radio. Trish, 53, is in the process of moving to Madison, Wis., to work in pharmaceutical research, so the McWilliamses are about to become a two-household family.
Through the years, West Side Folk has featured a variety of acts. The couple list Dar Williams, Beppe Gambetta, Connie Dover, Katie Curtis, Greg Brown and Ellis Paul among their many favorites.
The concerts now have graduated to larger venues, such as churches and the Lawrence Arts Center, but many of the artists still stay with Bob and Trish.
"There was a void," Bob says of folk concerts before the series began. "We feel like we inspired an insurgence. We feel like we created something."
Copyright 2018 The Lawrence Journal-World. All rights reserved. This material may not be published, broadcast, rewritten or redistributed. We strive to uphold our values for every story published.