Beit Hanoun, Gaza Strip — Hundreds of Palestinian women in robes and headscarves streamed into a Gaza combat zone Friday to help free gunmen besieged by Israeli troops at a mosque. Two women who came under fire were killed and at least 10 wounded, but some gunmen managed to escape.
The women, many with ties to the Islamic militant group Hamas, left their homes after daybreak in response to appeals on the local Hamas radio station or telephone calls from friends and relatives. By nightfall, they were celebrated as heroes, an unusual role in a deeply conservative society that tends to keep women on the sidelines. Until Friday, battling Israeli troops had been men's business in Gaza.
The mosque standoff came on the third day of Israel's fiercest bid in months to halt Palestinian rocket fire on Israeli border communities. The offensive began Wednesday, when Israeli forces took over the northern Gaza town of Beit Hanoun, close to the border with Israel.
In all, 36 Palestinians have been killed in Gaza since Wednesday, including a Hamas militant who was traveling in a minivan targeted by an Israeli airstrike early today.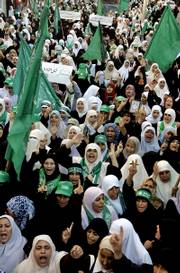 Seventeen Palestinians were killed on Friday, including the two women protesters, a 16-year-old boy, two medics and at least 10 militants. Most of the deaths were a result of a series of Israeli airstrikes after sundown. In the deadliest hit, five Palestinians were killed in an Israeli strike in the Jebaliya refugee camp.
The army said the strikes targeted militants trying to plant explosives or launch rockets.
The Beit Hanoun sweep is different from previous Israeli incursions into Gaza, a senior Israeli military official said. Rather than staying on the outskirts of populated areas, troops are going house to house in Beit Hanoun, sometimes breaking through inner walls to cut down on exposure to gunmen.
In another new tactic for Gaza, troops have rounded up hundreds of men for questioning, releasing most of them but detaining dozens, the army official said.
On Friday morning, Al Aqsa Radio, the local Hamas station, broadcast appeals to women to come to the rescue of the trapped gunmen. Hundreds responded, many of them Hamas supporters. The women marched toward the mosque, coming under Israeli fire at times, and approached armored personnel carriers and bulldozers near the mosque.
Copyright 2018 The Associated Press. All rights reserved. This material may not be published, broadcast, rewritten or redistributed. We strive to uphold our values for every story published.