Alberta Wright's church didn't allow her to dance when she was growing up.
Now, she says dancing is all the religion she needs.
Wright was brought up in a Church of Christ congregation that forbids members from dancing. She was in her 20s when she first saw belly dancing.
She knew she had to try it, and the 56-year-old has been dancing ever since.
"My dance is my prayer," Wright says. "It's a prayer to God and my meditation."
For Wright and others, dance is a spiritual movement, a way to get closer to God - or a divine force called by another name - through motion. It's often a centering activity, focusing on breathing and being aware of the body and thought process.
Universal dance
Wright, who dances and teaches dance professionally under the name Mazani Azura, says dance can be a spiritual guide for anyone, regardless of their religious beliefs.
"There's no set religion or belief system," Wright says. "It's just you and your higher power."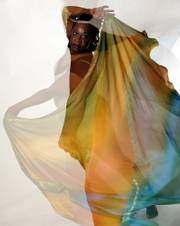 That's the basic philosophy behind the Dances of Universal Peace, a dance event held about once a month in Lawrence. The group is affiliated with the Shining Heart Sufi Community based in Kansas City, Mo.
The Dances of Universal Peace, however, is an international movement started in the 1960s by Samuel L. Lewis. It involves members participating in dances coming from different faith backgrounds, moving in unison - often in a circle - and chanting in a variety of languages, including Hindi, Arabic and Aramaic.
"It's a way different faiths could come together and share something - a 'peace through the arts' kind of idea," says Malika Lyon, who helps lead the group. "The idea is to recognize the underlying truths of the different religions. This unites, not divides."
The dances fit Lyon's personal religious beliefs well. She grew up in the Cumberland Presbyterian denomination but was never comfortable with the idea that good people of other faiths would go to hell. So she became a student of other religions, choosing to focus on the aspects that unite them.
"There's a commonality in them all," Lyon says, "that at different times, different teachers have come that had this great message from whatever you want to call it - the 'great mystery' - and that message suited humanity in time and place, and a lot of it was how to live well."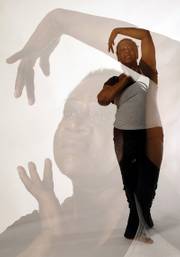 Lyon and her fiance, Clark
, like the Dances of University Peace enough they're getting married in the middle of the dances next weekend.
"It seems very appropriate," Lyon says. "It's something we enjoy doing together. We can be around this community of people and share with friends who can physically participate in the whole thing."
Other traditions
Lyon also is into Dervish dancing - a type of spinning that comes from Islamic tradition and that she says is a centering ritual for her.
"It's my main spiritual practice for getting into a different state," she says. "It's a meditative practice. You have to be very centered. I get a feeling I could turn forever, that I'm a revolving atom or planet. I have a real sense of being filled with some light or divinity, and that I'm not just limited to being a physical person."
Laura Martin-Eagle, owner of Be Moved Studio, 2 E. Seventh St., tries to use dance to help people feel that same way.
She teaches a class on Sunday mornings called "Sweat Your Prayers." It follows a system called 5Rhythms, which uses music to guide participants through a series of dances focusing on five different types of motion - flowing, staccato, chaos, lyrical and stillness.
She urges participants to express whatever emotions they happen to be feeling through motion, and to be aware of the way they feel and what they're thinking.
"You find that divine in you - whatever you want to call it, God, divine, spirit, truth," Martin-Eagle says. "It's just like sitting meditation, except you're moving."
She thinks dance, as a form of spiritual outlet, is attractive to people because it allows them to explore themselves.
"I think people are drawn to this because no one is telling them what form that divine is within them," she says. "They can find it for themselves."
And that, Martin-Eagle says, often leaves the dancers who come to her studio feeling like they've found a safe place to find out who they truly are.
"Sometimes," she says, "people walk into the room for the first time and they can't stop smiling. They've found other people doing what they've been feeling."
Copyright 2017 The Lawrence Journal-World. All rights reserved. This material may not be published, broadcast, rewritten or redistributed. We strive to uphold our values for every story published.