There is a newly minted team of citizen journalists in Lawrence.
The inaugural class of the Citizen Journalism Academy graduated Monday at the News Center.
Hosts of the five-week CJA were The World Company and the William Allen White School of Journalism and Mass Communications at Kansas University.
The 22 classmates, known as fellows, learned from educators and journalists about the processes and standards that help translate community activities and events into news. CJA members got hands-on experience writing news stories, participating in mock news meetings and maintaining blogs on a Web site created for the class.
Participants, selected from more than 125 applicants, ranged from high school students, retired fire chiefs, teachers, government workers, researchers, stay-at-home moms; most of them are want-to-be journalists/ writers.
The project was the result of discussions between KU and The World Company about the possibility of a joint project. The CJA appeared to be a natural fit. Ann Brill, KU journalism dean, and 6News News Director Cody Howard led the program.
When she addressed the class on the first evening, Brill said, "The aim is to seek to create an understanding of professional media standards and practices while teaching citizens how to more effectively communicate directly with the public."
Various homework assignments were given and then critiqued.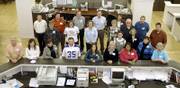 In a respectful and open way, fellows shared widely different views on issues facing the media.
Fellows were asked to consider why certain photos or videos should or should not be shown to the public. This provided an opportunity for the fellows to grapple with these issues in the same way professional journalists do.
"Given the rapidly increasing role of the electronic media and the fact that it was an inaugural class, I'm feeling like a pioneer on the edge of a new frontier," said Lori Vinoverski, a freelance writer and homemaker.
Bob Thurber, a mail carrier, said, "With today's technology, in the form of cell phones, digital cameras, blogs, the Internet, it turns out that anybody, anywhere, anytime, can provide news, oftentimes before the professionals. We can effect change in our communities, our country and the world around us, but only if our voices can be heard."
Diane Sjolander, a research administrator, was thrilled to have had "the opportunity to have face time with the media moguls of Lawrence. The moguls turned out to be regular people who really care about the news and getting the stories out."
Members of the inaugural class were chosen by their peers for the CJA Advisory Board, which will be involved in planning the next academy. Board members are Eileen Roddy-Phillips, Kari Wempe, Bob Thurber and Lori Vinoverski.
Copyright 2018 The Lawrence Journal-World. All rights reserved. This material may not be published, broadcast, rewritten or redistributed. We strive to uphold our values for every story published.