There's little doubt in Karen Ledom's mind that her rather shy 8-year-old daughter Bethany wouldn't have reaped the rewards from three purple championship ribbons during August's Douglas County Fair if it weren't for the Berg family.
From sons John, 18, and Chris, 14, helping Bethany practice for the hamster competition, to parents Doug and Mary answering Karen's many questions every other night, the Berg family's help meant a lot.
"They really went above and beyond," Ledom said. "They were always willing to help us if we called. ... They would stop by and bring us forms that we needed to fill out," said Ledom, who lives on a small farm near the Berg farm. "I'm not sure we would have stuck with it. Four-H is very rewarding but it's a whole lot of commitment."
For all their work helping others carry away ribbons and trophies, the Berg family will receive Sunday an inscribed silver tray that recognizes them as Douglas County Outstanding 4-H Family for 2006.
"For us, 4-H is almost a way of life," Mary Berg said. "It makes me feel better, like I'm doing something for the kids. There are days I question why I do it and other days that I can't imagine not doing it."
Berg, 43, is co-leader of the Lone Star 4-H Club and estimates her family spends about 600 hours a year volunteering.
The veterinary technician has spent a dozen years serving 4-H in Douglas County. She does everything, from recruiting volunteers to organizing 4-H'ers in the dog care and training project to organizing food drives and concession stands.
But her favorite part of volunteering is watching the kids' faces when they complete a project and win a ribbon at the county fair.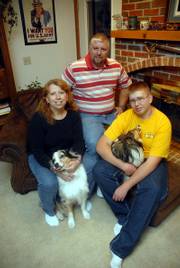 "When I get a new 4-H'er, you see in their eyes why their mom and dad signed them up in 4-H," she said.
Doug, 45, a driver for Penny's Concrete and a retired Army recruiter, helps 4-H'ers enrolled in the woodworking and electrical projects.
As a former soldier, his habit is to go where needed.
"It's always been a plus on my part to do what I can for others who need it," he said.
Their son Chris, 14, a ninth-grader at South Junior High, is a member of the Lone Star Club while John, 18, a freshman at Pittsburg State University, is a former member.
Both have found time outside of school and wrestling to volunteer their time as 4-H'ers. John, when confirmed last month at Corpus Christi Catholic Church, already had done the required 60 hours of community service through 4-H. He also earned a $500 scholarship for his 4-H record book that keeps track of his projects and volunteering time.
"They are really committed to helping the 4-H youth succeed whatever venue they choose, whether it be a 4-H project, whether it be a 4-H camp or 4-H county fair," said Emily Morehouse, 4-H Douglas County extension agent who estimated there are about 250 4-H families in Douglas County.
Mary Berg said she believes the 4-H program, which serves almost 96,000 youths in Kansas, helps her children build life skills.
"They get something out of sports," she said. "But I think they get 10-fold out of 4-H, knowing how to hold office, knowing how to speak, knowing how to take a project from the very beginning through showing that project at the fair."
She was a 4-H'er and fondly remembers winning a grand champion ribbon for breeding ducks as a 15-year-old. She said through 4-H she learned how to speak in public and attributes to 4-H her ability to speak on veterinary dentistry in cities like Long Beach, Calif., Orlando, Fla., and Portland, Ore.
"It's not just an agricultural program," she said. "They know how to run a meeting using parliamentary procedure and take a project from beginning to end."
The Bergs will receive the honor Sunday during the 4-H Achievement Banquet when 4-H'ers will be recognized for their work during the past year. The extension agency also will announce the winners of 4-H Spirit Award, the Dorothy Akin Leadership Award and The Friend of 4-H Award. There will be more than 100 youths honored.
Copyright 2018 The Lawrence Journal-World. All rights reserved. This material may not be published, broadcast, rewritten or redistributed. We strive to uphold our values for every story published.