On Wednesday evening, Lawrence became a different place.
It became a city where every street has a bike lane. It was home to one of the country's first alternative energy industrial parks. It was the organic farming capital of the country.
Scattered throughout the city were public showers and restrooms where bikers could clean up after their morning commutes, and where homeless residents would be invited to sleep at night.
And not least of all, it was a city that wasn't overly concerned about new growth.
All those ideas and more came out at a town hall-style meeting designed to give a group of outside experts studying the city a glimpse of what community members want Lawrence to be in decades to come.
For many in the crowd of about 70 people, it was their chance to paint the town green.
"If we don't connect Lawrence to the Earth, it ultimately won't be sustainable," said Ken Lassman, a rural Lawrence resident.
The meeting was part of a three-day visit by a team of planners from the American Institute of Architects that is studying Lawrence. The group will be offering a report on how the city can ensure that its growth and development is done in a manner that can be sustained by future generations.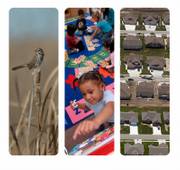 The six-member team got an earful about growth. Many of the people who spoke told the team that the city should concentrate less on adding more population and more businesses.
"What I see is that somehow growth has been equated with more growth equals more money," said Lawrence resident Marilyn Roy. "In the meantime, the downtown that I used to love has been turned into a tourist Mecca that I feel doesn't even belong to me anymore. And we have a western town that seems to be very separated from the rest of the community. Growth is really creating a division here."
Roy was one of several speakers who openly declared themselves "anti-growth." Others compared Lawrence's growth to a "cancer," or said that economic growth is "probably a prescription for our demise."
There weren't many in the crowd who stepped up to defend the city's growth pattern. Only two people out of approximately 35 speakers clearly expressed the need for the city to do more to promote growth in the future.
"To think that we won't grow or can oppose growth seems to be a very futile and unrealistic perspective to have," said Tim Herndon, a local architect who noted the rapid population growth of the planet during the last 150 years. "And these types of commercial uses are really what will help us pay for more green space, more bike lanes and many of the amenities that have been talked about tonight."
City Commissioner Boog Highberger, who helped organize the efforts to bring the team of planners to Lawrence, admitted that Wednesday's crowd probably wasn't a true representation of how the community felt about growth.
"I was hoping for a little broader cross-section of people and viewpoints," said Highberger, who said he may make a point to expose the team to some counter viewpoints before it presents its final report.
Lawrence is one of eight communities that the architecture institute has chosen to study this year. The study is part of a program that looks at how "sustainable" communities are, which is a way of measuring whether the city's growth and development can feasibly continue for future generations.
The team is expected to deliver a preliminary report to the City Commission at a 3:30 p.m. event on Friday at the Lawrence Arts Center, 940 N.H. The group also is inviting more public comment from 8 a.m. to noon today. Team members will talk individually with community members in the Crystal Ballroom of the Eldridge Hotel, 701 Mass.
The study is not expected to cost the city any money. All members of the team are volunteering their time. The institute has agreed to cover $15,000 in expenses for the team. If expenses run more than that, the city and the Lawrence Chamber of Commerce each have agreed to provide $2,500 in funding.
The planning team
The six-member team from the American Institute of Architects that is studying Lawrence includes a mix of planners. Here are the team members:
William Gilchrist, director of the department of planning, engineering and permits for Birmingham, Ala.
Charles Downham, project manager for Nashville Planning Studio in Nashville, Tenn.
Karina Ricks, transit oriented development coordinator, District of Columbia Office of Planning, Washington, D.C.
Henry Kosarzycki, program manager of Wisconsin Department of Commerce Division of Safety and Buildings, Waukesha, Wis.
Amy Smith, landscape architecture and urban design specialist with KPS Group Inc., Birmingham, Ala.
Caroline Lobo, environmental analyst, Orcutt/Winslow Partnership Architects, Phoenix.
Copyright 2018 The Lawrence Journal-World. All rights reserved. This material may not be published, broadcast, rewritten or redistributed. We strive to uphold our values for every story published.