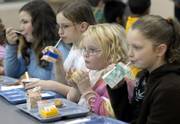 Breakfast: the most important meal of the day.
Generations have been raised to believe that early-morning eating is more critical than that of later in the day.
But is that really true?
"That statement's been around a long time, and it was probably sort of a marketing tool to get them to eat breakfast," says Pete Beyer, associate professor of dietetics at the Kansas University School of Medicine. "I suspect that it is an important meal, but I can't see any evidence it's the most important meal compared to the others."
Still, what you eat first thing in the morning does have serious implications. Consider:
¢ Studies have shown children who eat breakfast have better test scores than those who do not.
¢ People who eat breakfast have a better daily nutrient intake than those who do not.
¢ Those who eat breakfast are less likely to be overweight than nonbreakfast eaters.
"There still may be benefits," Beyer says, "even if the breakfast meal is only fairly decent" from a health perspective.
Ann Chapman, dietitian with Watkins Student Health Center, explains that benefit this way: Our bodies shut down overnight, with reduced heart rate and other organ function. Breakfast is a way to tell our brains that we've switched back "on" for the day.
"If you get up in the morning," she says, "and don't put anything in you for fuel value, and there are no calories to burn, your brain gets no different message."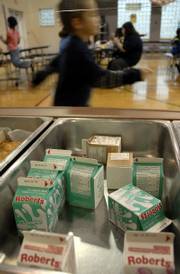 Chapman says the food we eat is digested every four hours, meaning, "our body is meant to be fueled about every four hours."
If we wake in the morning and don't eat, it prolongs the time between meals. And that, in turn, means we often overcompensate at lunchtime.
"Undereating," she says, "leads to overeating."
The dos
The question, then, is what to eat at breakfast.
Chapman suggests meals that are fairly high in fiber and protein (5 grams and 10 grams, respectively) and lower in carbohydrates.
That means she'd shy away from sugary cereals and opt for cereals with nuts in them. Or she'd choose a bagel with peanut butter over a bagel with jelly.
And certain fatty foods - those without saturated or trans fats - are OK because they'll stick with you longer through the morning.
"They take longer to digest," she says. "They have longer staying power."
She also suggests using breakfast as a way to add to the nine daily fruit and vegetable servings now suggested by the federal government's food pyramid. Drinking a glass of orange juice accomplishes that simply, she says.
Beyer offers another suggestion for that: Adding raisins or cranberries to cereals.
He also says breakfast can be a time to add to the dairy intake, though cereal-eaters should stick to skim milk, 1 percent or 2 percent to reduce calories.
And he says there's no reason why we have to be limited to the foods society has traditionally considered "breakfast foods." He says he has a friend who usually eats a salad for breakfast.
"We don't need to be limited to the things that are the traditional breakfast - the traditional breakfast of eggs or sausage and eggs," he says.
But some entrees on the traditional breakfast list may be acceptable, he says. For instance, breakfast potatoes cooked with canola oil and sauteed vegetables aren't a bad option. Or adding salsa - which counts as a vegetable serving - to eggs is another possibility.
The don'ts
There are, of course, foods that should be avoided for breakfast.
Doughnuts might not be the best option, and even some breakfast bars - the ones that have high sugar content and low fiber and protein - should be avoided.
"I wouldn't recommend biscuits and gravy, doughnuts or foods with trans fats or that are high in saturated fats," Chapman says. "A lot of the fast-food breakfasts - like sausage and egg biscuits - I would not recommend. They're high in the wrong kinds of fats."
The general principle, Beyer says, is to follow the same guidelines for breakfast as you would any other meal.
"Generally," he says, "the same guidelines apply for any meal of the day. People should consume those things that provide some of their overall nutritional status."
Copyright 2018 The Lawrence Journal-World. All rights reserved. This material may not be published, broadcast, rewritten or redistributed. We strive to uphold our values for every story published.