Digging holes is all in a day's work for Chigger, a rat terrier.
But while many dogs are busy burying bones in the backyard, Chigger gets to sit in the front seat of a bulldozer carving through three layers of asphalt and brick on Massachusetts Street.
Chigger's owner, Jim Heiman, is a foreman with Nowak Construction, and occasionally he takes his canine companion to work with him. For Heiman, operating heavy machinery is a cinch, even with a dog in his lap.
"He's like a human. He just sits in my lap - he don't do nothing," Heiman said, adding that for safety reasons, he keeps Chigger on a leash.
Though Heiman gets to bring Chigger to work pretty much whenever he wants, most dog owners don't have that luxury - after all, a cubicle in a quiet office isn't exactly the best place for dogs to spend the day. But a number of Lawrence residents have found ways to bring their pets into professional settings.
Audio Slideshow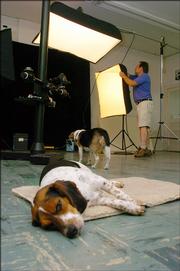 Man's best friend
Working like a dog? Some Lawrence residents find the daily grind is more fun when they take man's best friend with them to the job.
Like Heiman, Jon Blumb, a Lawrence photographer, enjoys the company of his animals at work. Though they may not increase business, his two beagles, Bunny and Buster, help out in the studio by entertaining clients between shots.
"They don't get to go every day because sometimes I have to go do a job somewhere or sometimes it's too hot for dogs to travel. : When I can, I take them along for fun. They're good companions," Blumb said.
"They're experienced in meeting people and traveling and walking across the street downtown," he said. "It's kind of entertaining for them."
Because Blumb is his own boss, bringing Bunny and Buster to work isn't an issue. It's the same for Dale Willey, owners of Dale Willey Automotive, 2840 Iowa, who tries to keep his golden retriever, Toby, in the office for most of the day.
On occasion, Toby breaks free and gets a little too friendly with customers. Just the other day, he leaped into the front seat of a female customer's SUV and "made himself at home in her car," Willey said.
Willey, who calls Toby "his 80-pound lapdog," said that having a dog in the workplace is more fun than hassle, which explains why Toby has tagged along with his owner nearly every day for more than three years. Willey doesn't know if Toby's charisma sells cars, but it does add excitement to the workplace.
"He just wants to have fun with everybody," Willey said. "That's what golden retrievers do."
Take Your Pet to Work Day
Pet Sitters International's eighth-annual Take Your Dog to Work Day is Friday, June 23. More than 10,000 companies are participating worldwide in an effort to encourage pet adoption and responsible pet care.
Copyright 2018 The Lawrence Journal-World. All rights reserved. This material may not be published, broadcast, rewritten or redistributed. We strive to uphold our values for every story published.