Bantul, Indonesia — U.S. Marines joined an international effort Tuesday to deliver aid and medical equipment to some 200,000 Indonesians left homeless by a devastating earthquake, as hopes faded of finding more survivors.
Two U.S. Marine cargo planes carrying a mobile field hospital landed in Yogyakarta, closest to the quake area in central Java, after cracks in the airport runway were patched.
A disaster assistance response team from the U.S. Agency for International Development is being readied and the amphibious assault ship USS Essex, which has extensive medical facilities, is en route to the area, White House deputy press secretary Dana Perino said.
The United States also increased its aid contribution to $5 million.
The United Nations said at least 21 other countries have joined the effort to help those left homeless by Saturday's magnitude-6.3 quake, which killed nearly 5,700 people.
As medical aid began to arrive, the threat of a health crisis appeared to be easing.
At two hospitals in Bantul, the hardest-hit district, parking lots and hallways that were filled with hundreds of injured in the days after the quake were clear, with most patients now being treated in beds.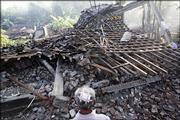 Workers removed a tent from the parking lot at Yogyakarta's largest hospital, Sardjito, that had been used to shelter patients.
The U.N.'s top humanitarian official said the aid effort was going well, and there had been major improvements in coordination among aid organizations and nations since the 2004 Indian Ocean tsunami that killed 131,000 people in Indonesia's Aceh province alone.
Most survivors were still living in improvised shacks or group shelters erected in rice fields. Despite government promises of aid, shortages of food and fresh water remained a pressing concern, and thousands of people used cardboard boxes to beg for cash and supplies from passing drivers.
The head of a Malaysia search and rescue team said hope had faded of finding more survivors or bodies, and his group had turned to clearing rubble from streets instead.
The Asian Development Bank announced a total of $60 million in grants and low-interest loans to rebuild the earthquake zone.
Copyright 2018 The Associated Press. All rights reserved. This material may not be published, broadcast, rewritten or redistributed. We strive to uphold our values for every story published.