Kyle Murphy wasn't worried about himself as he sat in the back of an ambulance Feb. 25. Paramedics assured him a batch of stitches would close an ugly gash on the side of his nose.
Murphy, a junior center fielder on the Kansas University baseball team, was more concerned about left fielder Matt Baty - who was in much worse shape following their collision on a bloop hit to left-center during a game against Lipscomb in Nashville, Tenn.
"He was in a lot of pain. He was struggling," Murphy said of Baty, suffering next to him in the emergency vehicle.
"I think they thought for sure he'd broken some ribs."
Murphy - who dove for the ball head first as did Baty, Murphy's head smashing into Baty's side - was administered 40 stitches in the emergency room of a Nashville hospital. Baty was carried to intensive care, where it was determined the Wichita senior had suffered a lacerated spleen and kidney.
Serious stuff.
"They had me under watch where I couldn't eat for 48 hours. They were ready at any time to take me into surgery," Baty recalled. "It was kind of scary. I don't think they were telling me everything. I'm sure they were hiding some stuff from me."
One thing medical experts didn't hide - once it was determined Baty would not need any surgery - was their prognosis for the rest of the season.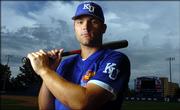 "I was told there was no way I was coming back, but I told my trainer, I told my doctor I'm going to prove them wrong," Baty said.
Perseverance paid off for Baty, who missed just 18 games, returning to action April 5 against Wichita State.
"I would not be here without the power of prayer. I give all the glory to God," Baty said emphatically. "People in my high school, people at KU, people all over the country were praying for me. It shows the power of prayer. It's why I'm here today."
On Tuesday, Baty was at Hoglund Ballpark chatting with a horde of reporters who wanted to discuss his Most Valuable Player performance at last week's Big 12 tournament and the Jayhawks' berth in the NCAAs.
Baty will take a .298 batting average into Friday's NCAA Tournament opener against Hawaii (2 p.m., CDT, Corvallis, Ore.) He has two homers, 18 doubles and 20 RBIs in his remarkable comeback season.
"I am just as intense," Baty said. "I am a guy who gives 100 percent in everything I do, nothing less. I will give 100 percent injured or not."
He's healthy now, to the delight of fellow KU senior Ritchie Price, a shortstop who was despondent when Baty went down in late February.
"I was worried his career was over," Price said. "It was definitely scary, especially when we visited him in the hospital before we left Nashville. He looked fine, but had all these tubes tied to him, all these IVs. It was pretty freaky."
Price and Baty had entered the season as senior leaders wanting to take the Jayhawks to their first NCAA tourney since 1994.
"Our senior year, we wanted to go out and do something special. When he went down I was just hoping he'd be able to return before the season was over. He definitely did," Price said.
Murphy said Baty's return was the spark the Jayhawks needed down the stretch.
"Anytime you have a senior captain gone, it's big," Murphy said. "But when he was not in the lineup he still was a big part of the team. He was always at practice and in our dugout. When he came back it gave us a big lift, was huge for our team of course."
KU, which went 9-4 before Baty's injury, 11-7 with him out of the lineup and 22-12 since his return, hopes to keep winning at regionals and super regionals and advance all the way to the College World Series.
"We are not done at all," Baty said. "There is more intensity in our dugout than I've ever seen in baseball.
"I really like our chances after winning the Big 12 Conference tournament. We have everything going for us. Now we will get everybody's best. No game will be easy in the tournament. All 64 teams are deserving and there for a reason."
¢ Travel plans: KU's players were to board a bus at Allen Fieldhouse at 8 a.m. today, driving to Topeka where they will fly charter to Oregon. The team will practice in Oregon two days in preparation for the Hawaii game. Coach Ritch Price said staff ace Kodiak Quick would get the start in the regional opener.
¢ Hectic slate for coach: After watching the NCAA Tournament selection show Monday, KU coach Ritch Price drove his son, Robby, 12 hours to Duluth, Minn., where the Free State High graduate will play summer league ball. Ritch flew back Tuesday and held a 6 p.m. practice with the Jayhawks.
"I was a dad after the TV show yesterday," Price said with a smile.
Copyright 2018 The Lawrence Journal-World. All rights reserved. This material may not be published, broadcast, rewritten or redistributed. We strive to uphold our values for every story published.