Editor's note: This is one in a series of articles featuring the Lawrence soccer teams that participate in the Premier League of Heartland Soccer Assn.
If it wasn't for about a 10-minute stretch per game, the U14 Kaw Valley Force-Blue might have had a different regular season. Head coach Kyle Glick knows what his team is capable of because he sees them do it almost every game, but not always for the whole game.
"We're notorious for owning 98 percent of the game then giving up a couple quick goals that cost us the game," Glick said.
Glick got his start coaching when he played for the KU men's club soccer team, and a teammate got him involved in the Kaw Valley Soccer Assn. After getting his coaching license last spring and assisting on four teams during the course of the year, Glick is now head coach for the U14 and U12 KVF-Blue teams.
While the season may not have gone as planned, or as well as the team's fall season, morale remains high and the players continue to have fun. A recent high point came in the Governor's Cup when the team fielded with only 11 players but managed to claim a 3-2 victory. That game demonstrated the teamwork and skills that had come together as Glick had envisioned most of the season.
With about half the team playing up from the U13 level, getting the team to play well together has been an ongoing process.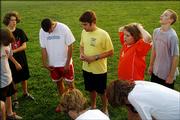 "We have a lot of younger guys who aren't quite as big or fast, but they've all done a great job of meshing together," Glick said. "They've blended so well and are a good team; we just don't always get the results we want."
KVF-Blue players Casey Waniska, Russ Armstead and Connor Vining applauded their coach for his toughness and ability to have fun at the same time. They said one big thing about the team is that everyone can run for the whole game and that endurance is due to the conditioning regimen Glick puts them through at each practice. The regimen includes running a whole mile before warm-ups and numerous sprints during and after practice.
"Coach can be fun sometimes, but he works us hard and will crack the whip if he needs to," Armstead said.
Glick has also had the players really develop their skills and fundamentals, which he has seen translated into better play on the field during games.
According to Glick, the players have increased their knowledge of the game tenfold and have really become more active on the field, especially working off the ball.
As the regular season has drawn to a close, Glick's coaching strategy will be put on display one more time at the Kansas City Invitational. Glick likes to use the Premier League season as motivation and warm-up for the tournaments where the team can really show off what they've learned.
"We're looking forward to the KC tournament and really hope to do well and have a good showing at the end of our season," Glick said.
If all goes well, Connor Vining will have his lucky Irish coin in place under his shin guard as he has done every game, and the defense's cry of "Hoorah!" will be heard echoing around the fields in Kansas City, proclaiming a KVF-Blue victory.
Copyright 2018 The Lawrence Journal-World. All rights reserved. This material may not be published, broadcast, rewritten or redistributed. We strive to uphold our values for every story published.