The 10U Douglas County Amateur Baseball Assn. Saints took an early lead on the Rebels in the top of the first inning, scoring five points and continued to dominate the rest of the game resulting in the Saints defeating the Rebels 14-6 in five innings the morning of May 20 at Youth Sports Inc.
Saints head coach Pat Walmsley said he was very proud of the way his team played, especially at 9 a.m. on a Saturday.
"We played really well against an extremely hard hitting team," he said. "Our team got a little rattled on the defense, but they were able to get back in it."
Walmsley said he was pleased with the way they played especially since the team had played six games in 10 days and lost only one. And despite having four new players, he said the team has really been able to come together well.
Hitter Caleb D'Armond agreed.
"We had a lot of people paying attention this morning and staying focused," he said.
Rebels head coach Pat Karlin had expected more from his team.
"Our effort has been good overall this season," he said. "Our focus wasn't the best today, and the other team took advantage of that. But we'll have the chance to come back and get better."
The Rebels scored their first points in the bottom of the second inning, with the Saints leading 5-2. To end both the top and bottom of the second inning, Rebel pitcher Lucas Werner and Saint pitcher Nico Palacio caught a line drive towards the mound.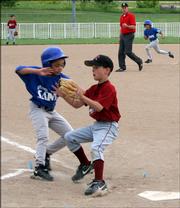 In the top of the third inning, Werner was taken out after D'Armond scored and Ty Walmsley walked. Left-hander Jake Hensley was brought in as the new pitcher for the Rebels. Walmsley ended up stealing home, and the Saints were able to score four more runs before bringing up the bottom of the inning.
The score didn't change in the bottom of the third as the Saints defense held the Rebels scoreless, maintaining their 10-2 lead.
Hensley continued to pitch in the fourth, allowing the Saints to score four more runs with the help of steals by Ellis Springe and D'Armond. Karlin then called a time out and brought in the whole team.
In the bottom of the fourth, Rebel Casey Hearnen scored, cutting the Saints lead to seven.
Jon Saathoff pitched for the Rebels in the last inning of the game with three strikeouts and one walk and gave his team momentum at the plate heading into their last at bat. The game changed for the Rebels in the bottom of the fifth inning enabling them to salvage their run total and gain momentum heading into their next contest.
Copyright 2018 The Lawrence Journal-World. All rights reserved. This material may not be published, broadcast, rewritten or redistributed. We strive to uphold our values for every story published.