Description: Has soft, pebbly, narrow, oblong gray-green leaves with a slightly bitter, resinous aroma.
Uses: Used extensively in the Mediterranean, especially in Italy. Often paired with rosemary in seasoning game, poultry, pork and veal in Italy. In United States, used most commonly with poultry seasoning and stuffing. Also works well with starches such as potatoes, dried beans and split peas.
Purchasing: Can be found year-round in grocery stores and in farmers markets in late summer.
Source: "Field Guide to Herbs & Spices," by Aliza Green
Chicken Marsala with Sage
4 skinless boneless chicken breast halves, each halved horizontally
All-purpose flour
6 tablespoons (3/4 stick) butter
1 tablespoon chopped fresh sage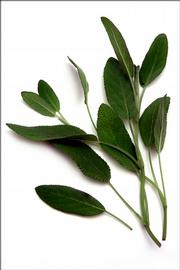 1 cup imported dry Marsala wine
1 cup canned low-salt chicken broth
Fresh sage leaves
Sprinkle chicken with salt and pepper. Dust with flour; shake off excess. Melt 3 tablespoons butter in large skillet over medium-high heat. Add chopped sage; saute 1 minute. Add half of chicken. Saute until brown and cooked through, about 3 minutes per side. Transfer chicken to platter. Repeat with remaining butter and chicken. Tent chicken with foil. Add Marsala and broth to skillet; bring to boil, scraping up any browned bits. Boil until sauce is reduced to 1/2 cup, about 10 minutes. Season with salt and pepper; spoon over chicken. Garnish with sage leaves.
Source: www.epicurious.com
Copyright 2018 The Lawrence Journal-World. All rights reserved. This material may not be published, broadcast, rewritten or redistributed. We strive to uphold our values for every story published.