Editor's note: This is one in a series of articles featuring the Lawrence soccer teams that participate in the Premier League of Heartland Soccer Assn.
As of press time, the 11U girls KSA Enforcers soccer team has had an undefeated season in regular Premier League play. Enforcers' head coach Pat Watkins answered some questions and reflected on the team's winning season.
How long has the team been playing together?
"They have been playing with each other for four or five seasons now."
Where does the team play its games and practice?
"We play games at Heritage Park in Olathe and practice at Lawrence Free State High School."
What are practices like for the team?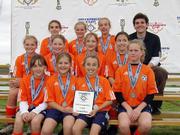 "They are about an hour and 45 minutes long. We start out with technical drills and warm-ups and then move into tactical drills. We finish up with game simulation practice."
What were some of your goals for the team this season?
"We wanted to improve as a team and also improve our strategies and tactics. We stayed undefeated this year even though we moved up a division, from Division 3 to Division 2."
What kinds of teams do the Enforcers face in competition?
"We play mostly teams from Kansas City and some from Topeka. We are at a threshold where the girls could be playing top-level teams. Our team is in a position to be at the top level."
What is one tournament highlight for the team this season?
"The KC Invitational, it is one of the more competitive tournaments in the area. Some big teams play in the tournament."
Did you have any strategies for the team this year in regular season play?
"The players know their own strategies. We do quite a bit of switching on the field and the girls really know their places. Our strategy this season was just to keep what we have been doing and to do it better."
What is the biggest strength of the team?
"Our biggest strength is probably in our defense, it is the core of the team. We've only let one goal get by us out of five games we played in our last tournament. The girls communicate and work well as a team. We are a pretty solid team, I could go through the entire roster listing their strengths."
What are some weaknesses of the team?
"Sometimes we might lack in one or two things on the field throughout the game, but overall they grow and get better in every game."
What is one of the most unique things about the team?
"The team members as a whole are a fun group of girls to be around. They really have fun on the field."
What has been your most favorite experience with the team so far?
A: "This season as a whole has been great, especially being undefeated."
Copyright 2018 The Lawrence Journal-World. All rights reserved. This material may not be published, broadcast, rewritten or redistributed. We strive to uphold our values for every story published.