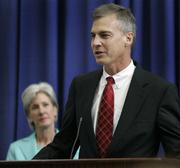 Recent stories about Sebelius
Overland Park — Gov. Kathleen Sebelius, a Democrat, today picked former Kansas Republican Party Chairman Mark Parkinson to be her lieutenant governor running mate.
The selection capped a stunning development in Kansas politics.
Republican Party officials expressed dismay at Parkinson's switch to the Democratic Party.
But Sebelius and Parkinson met the criticism head on.
Parkinson called Sebelius a new kind of leader who ignores party labels for the public good.
"She showed us a new way to lead," Parkinson said.
Sebelius praised Parkinson, of Olathe, as independent and having a strong character.
Sebelius made the announcement at a campaign event at the Kansas University Edwards campus.
Parkinson was accompanied by his wife, Stacy and their three children, Alex, 17, Sam, 14, and Kit, 11.
Parkinson is a former state legislator who served as state GOP chairman from 1999 to 2003.
Sebelius and Parkinson planned to visit Pittsburg, Wichita, Topeka, Dodge City, Hays and Salina during a tour of the state before officially filing to run on Thursday.
-->
Copyright 2018 The Lawrence Journal-World. All rights reserved. This material may not be published, broadcast, rewritten or redistributed. We strive to uphold our values for every story published.