Phoenix — Raja Bell is back, and so are the Phoenix Suns in the Western Conference finals.
Bell supplied the grit with a surprise start despite a slightly torn calf muscle, and his teammates took care of the offense in a 106-86 rout of the Dallas Mavericks on Tuesday night.
"Well, I guess we're not done yet," Suns coach Mike D'Antoni said.
Tied at two games apiece, the series returns to Dallas for Game 5 on Thursday night.
Leandro Barbosa, coming off a poor performance as a starter in place of Bell in the Suns' Game 3 loss, scored 24 points on 10-for-13 shooting.
Boris Diaw added 20 points, including a pair of emphatic fourth-quarter dunks that helped the Suns build a 25-point lead.
Steve Nash had 21 points and eight assists, and Shawn Marion scored 15 points.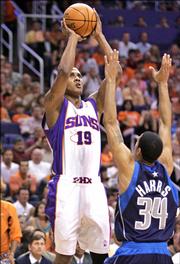 Bell had missed the last two games with a slight tear in his left calf, and all indications had been that he would sit out this one, too.
"I've been to war all season with these guys," Bell told TNT at halftime. "I wasn't going to watch tonight."
He had only nine points but gave Phoenix some much-needed intensity in 32 minutes of play.
"Half our team is a bunch of quiet guys," Nash said. "He gives us another guy that opens his mouth once in a while, gives us some toughness, some bravado. I can't say enough about how much his personality means to our team."
D'Antoni called Bell "a team guy. He's never asked for anything. He's been a team guy. He just plays hard every night. And, you know, to be able to coach a guy like that is precious."
Dirk Nowitzki managed only 11 points for the Mavericks on 3-for-13 shooting, breaking a string of 42 games when he's scored at least 20 points.
It was his lowest-scoring game all season and the first time he's scored fewer than 25 points in the Mavs' eight games against Phoenix this season.
"We turned the ball over way too many times, especially early," Nowitzki said, "and we made mistakes all over the place."
Josh Howard led the Mavericks with 16 but left with an apparent shin injury with 5:47 to play. Dallas coach Avery Johnson said afterward that "Josh is fine."
It was a rough night all the way around for Dallas.
Johnson drew a technical foul early. His wife Cassandra got into a nose-to-nose argument with a fan, with Mavericks owner Mark Cuban coming to her defense. Security personnel escorted the fan away.
"You know, I can point to a lot of things that were very disgraceful about the game," Johnson said, "but we lost."
He would not elaborate.
The Mavericks said Barbosa, rather than Bell, was the biggest factor.
"He was a tough little guy today, and we've got to make sure we handle him a lot better next time," Nowitzki said.
Phoenix never trailed after the first quarter. The Mavericks stayed close, despite the shooting woes of Nowitzki, until the Suns blew it open with a 20-4 outburst at the end of the third quarter and start of the fourth.
Jason Terry's second 3-
pointer of the quarter cut the Suns' lead to 67-65 with 3:49 to play in the third. But Dallas went cold and the Suns finished the quarter with a 12-2 run. Five Phoenix players scored in the surge, capped by Marion's stuff with 37 seconds to go that put the Suns ahead 79-67 entering the fourth quarter.
Diaw dunked over Nowitzki for a three-point play to start the fourth quarter to make it 82-67. Another dunk by Diaw ended the surge and put Phoenix firmly in control for good, 87-69, with 10:14 to play.
The Suns shot 54 percent, including 7-of-15 on 3-pointers, compared with 42 percent for the Mavericks.
Copyright 2018 The Associated Press. All rights reserved. This material may not be published, broadcast, rewritten or redistributed. We strive to uphold our values for every story published.