Medan, Indonesia — The sole survivor in a cluster of Indonesian relatives infected with bird flu lies in an open-air hospital room, chickens pecking outside his door and visitors shuffling in and out without masks or protective gear.
The patient, Johannes Ginting, is still very weak but seems unconcerned. He even fled the hospital when he first fell ill with the H5N1 virus and has since resisted treatment, balking at the bird flu drug Tamiflu.
"We had actually given masks and gloves to the family, and we informed them how dangerous this disease is, but they didn't cooperate with us," said Nurrasyid Lubis, deputy director of Adam Malik Hospital. "We also informed him how dangerous it is, but he didn't believe us."
On the other side of the hospital, health workers got a briefing on the importance of infection control. Posters depicting chickens and a burning globe are on walls throughout the building warning of bird flu, which has killed at least 124 people worldwide since it began ravaging Asian poultry in late 2003.
A quarter of the human deaths have been in Indonesia, which has been criticized for acting too slowly to stop the spread of the disease.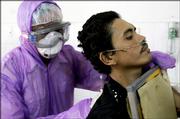 Lack of public awareness is part of the problem, health experts say, noting that many people in the sprawling countryside have never heard of bird flu. Others, like 25-year-old Ginting, deny it is a problem.
At least six of Ginting's relatives from tiny Kubu Simbelang have died of the virus. A seventh was buried before samples could be taken, but the World Health Organization considers her part of the cluster - the largest ever reported.
The case has drawn much attention because the infections have not been linked to contact with birds. Experts suspect limited human-to-human transmission may have occurred, but say no one else outside the family has fallen ill.
The disease remains difficult for people to catch, and most human cases so far have been traced to contact with infected birds. But experts fear the virus will mutate into a highly contagious form that passes easily among people, possible sparking a pandemic. They stress, however, that has not happened in Kubu Simbelang.
Copyright 2018 The Associated Press. All rights reserved. This material may not be published, broadcast, rewritten or redistributed. We strive to uphold our values for every story published.