Oakland, Calif. — The Kansas City Royals will take any victory these days. And when they do win, they try not to get too excited about the result.
Shane Costa doubled twice and drove in a run, and Seth Etherton won in the majors for first time in more than a year in the Royals' 6-4 victory over the Oakland Athletics on Monday night.
Emil Brown had three hits and drove in a run, and Matt Stairs and Doug Mientkiewicz had RBI doubles for Kansas City. The Royals won for only the second time in 17 games, improved to 4-22 on the road and gave manager Buddy Bell his 400th victory.
"We've got a ways to go yet," Bell said. "We need to get some people back. We've got to continue to move forward. ... A win is a win. I'm happy for our guys."
Frank Thomas hit his 458th career homer and 10th of the season, a solo shot to left in the fifth off Etherton (1-0), who made his first start of the season after the Royals acquired him Saturday from the San Diego Padres.
Oakland had been looking to get back on track following a 1-6 road trip in which the A's dropped four games by one run. Instead, they lost for the ninth time in 10 games to fall a season-worst five games under .500 (23-28).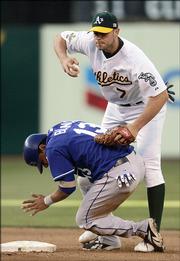 The A's stranded nine base-runners and went 0-for-8 with runners in scoring position.
"I think everybody's sitting here saying, 'When are we going to get this big hit?"' manager Ken Macha said. "I know I am."
Nick Swisher walked with the bases loaded in the second for Oakland and hit a solo homer in the ninth, his 15th. Eric Chavez had an RBI groundout in the seventh.
Dan Haren (4-5), who had his three-start winning streak snapped in a 3-2 loss at Chicago last Wednesday, threw a career-high 122 pitches in his second straight defeat.
"Everyone knows we're struggling," Haren said. "When we hit, we don't get pitching. It's one of those cycles. Eventually we'll get out of it."
John Buck added a run-scoring single for the Royals, who began the middle series of an 11-day, 10-game trip through three cities.
"It's where it starts, one game," Buck said. "You can't overwhelm yourself in a season like this. Everybody in the world seems like they're rooting against you."
Etherton threw 88 pitches through four innings after a 12-pitch fourth and was done after five innings and 100 pitches. He allowed two runs and six hits, struck out two and walked two.
Etherton, a former Oakland pitcher, won for the first time since May 18, 2005, a 13-6 A's win over Boston. That was his first big-league victory dating to a win Sept. 1, 2003, for Cincinnati at Milwaukee.
"I think it's big to come back and get a win against anybody in the major leagues," Etherton said. "It's nice. I think they kind of gave up on me last year. I finished up the season in Triple-A and that was it. Once the tie is cut, it's like (facing) any other team now. But this one was probably a little bit sweeter."
Ambiorix Burgos got three outs for his sixth save.
Bell has 55 wins with the Royals after previous managerial stints with Detroit and Colorado. His overall record is 400-568.
Copyright 2018 The Associated Press. All rights reserved. This material may not be published, broadcast, rewritten or redistributed. We strive to uphold our values for every story published.