Dan Reeder thought that surely by May the days of having leaves drop into his yard had passed.
But about two weeks ago he walked out to a front yard full of green leaves that had fallen from his massive sycamore. They littered the front lawn of his west Lawrence home and eventually turned brown.
Sycamores do drop leaves periodically throughout the year, but Reeder never had seen it like this in his 20 years living there. Better call the tree doctor, he said.
"We are a city of trees, some say, and we like to take care of them," said Reeder, president of Lawrence-based Reeder and Co., an advertising and design consulting firm.
Reeder grew up on the plains of Springfield, Colo., where the wooded and leafy creatures don't exactly sprout from the ground. Forgive him if he's a little protective of his trees.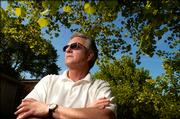 Eventually he talked with a gardening and horticulture expert at the K-State Research and Extension-Douglas County office who gave him some advice.
Sycamores don't like dry conditions because their roots stay near the ground surface, the expert told Reeder. The drier conditions this spring could make sycamores a little parched.
So Reeder started watering his lawn, not just near his sycamore's trunk but out in a wider perimeter. It did wonders, he said.
Late last week, Reeder's lawn was still littered with a few fallen leaves left from before he started the water treatment, he said.
"It occurred to me that there must be a number of sycamores in this community in need of a drink," Reeder said.
Arborist Matt Evans, of Ryan Lawn and Tree, said sycamores also could lose their leaves because of anthracnose fungus.
"This is a nonfatal disease, but homeowners risk premature leaf drop and branch dieback every year unless they have the trees treated," Evans wrote in an e-mail message.
An arborist can inject a fungicide like Arbotect to help control the disease and protect the tree for two years, Evans said. The treatment is best done in August but also can be done in fall.
Copyright 2018 The Lawrence Journal-World. All rights reserved. This material may not be published, broadcast, rewritten or redistributed. We strive to uphold our values for every story published.