Jamprip, Indonesia — Rescuers said today that hopes were waning of finding more survivors from a devastating earthquake that killed more than 5,400 people in central Indonesia.
The bleak assessment from the head of Malaysia's rescue team came as homeless survivors living in rice fields and makeshift shacks begged for food and water.
Soldiers on Monday began delivering bags of rice to village chiefs in the mountainous quake zone on the island of Java, but survivors called the aid meager and slow. The United Nations planned a global appeal, saying relief money was running low.
"We have 300 families in this village and have only gotten two sacks of rice," said Lastri, 27, holding a 5-month-old baby. "It's not enough."
Indonesia's Social Affairs Ministry today raised the death toll to 5,427.
The head of an emergency response team from Malaysia said it didn't expect to find any more survivors or bodies under the rubble.
"The collapsed homes were all so small that anyone who was trapped would have been extracted by their family members," said Supt. Abdul Aziz Ahmad.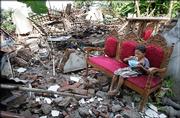 He said his team had only found one body Monday.
Thousands of people, including children and the elderly lined main roads in the area of Saturday's 6.3-magnitude quake, holding out whatever containers they could find for donations to buy rice, oil and candles.
"Please give me something, I'm hungry," 7-year-old Sari told passing drivers, standing beside a group of children carrying banners that read "We have not gotten any aid" and "Help us."
A plane chartered by the U.N. children's agency touched down near the disaster area, and the United States, which pledged $2.5 million, said 100 military doctors and nurses were en route with surgical, dental and other equipment.
But rough roads in mountainous central Java and new cracks in the runway at the region's main airport hampered delivery efforts.
In Jamprip, a village of 300 families, Edi Sutrisno, 37, helped unload aid from a military truck - two bags of rice, nine boxes of dried noodles and two boxes of bottled water.
"It's the first we've gotten since the quake," he said. "Of course it's not enough for all of us, not even for a day."
The government said an estimated 200,000 people were homeless, most living in improvised shacks close to their former homes or in shelters erected in rice fields. Hospitals overflowed with bloodied survivors. Power was still out in much of the quake region, which covers hundreds of square miles.
Compounding the devastation were fears of an eruption of nearby Mount Merapi, which has been belching gas and lava for weeks, and a scientist said its volcanic activity had increased threefold since the quake.
Copyright 2018 The Associated Press. All rights reserved. This material may not be published, broadcast, rewritten or redistributed. We strive to uphold our values for every story published.