Titletown.
It's a label the city of Lawrence hasn't been able to throw around as regularly as it used to.
In the almost nine years that elapsed between the opening of Free State High's doors in the summer of 1997 until Saturday night, only four city high school sports teams reached the pinnacle of Kansas prep sports and lived up to that lofty billing.
Now, after a two-hour span Saturday that saw Free State win its first state baseball championship at Wichita's Lawrence-Dumont Stadium, followed by Lawrence High claiming its first boys state track crown since 1997 across town at Cessna Stadium, both schools are excited and hopeful about the possibility of a Titletown rebirth.
For Free State - which, prior to last weekend's championship run, had a sole boys state swimming crown to its credit - the second state salvo is about shedding the "new-school" identity and proving it belongs as a major player at the state level.
Photo Gallery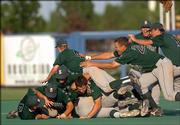 6A baseball champs
"It's very difficult to build your own traditions and your own way of doing things," said Free State baseball coach Mike Hill, who graduated from Lawrence High and coached at the school before moving across town to start the Firebirds' baseball program. "We feel like we've gotten there as a baseball program.
"It takes a lot of groundwork to build that up. Hopefully, this becomes a springboard not only for us, but a lot of our programs."
Photo Gallery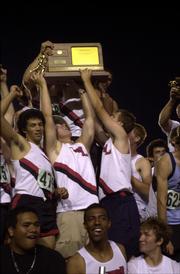 State track
For LHS - which has two girls gymnastics championships and one baseball title to its credit since the split - the newest gold trophy is about proving to another generation of athletes that the storied tradition of the Chesty Lions still carries some clout on the state scene.
"When it got close Saturday night, you knew Lawrence High would win it," said LHS track coach Scott Stidham, who himself was a part of state-championship football and track teams during his playing days with the Lions. "It was like old-time Lawrence High. That's what makes it so special."
The two new championships also, for one night, allowed two intense rivals to unite and carry the flag for the one city they each proudly represent.
"There's some people that still haven't gotten over the fact that this town split," Hill said. "I'm tickled to death for those kids and coach Stidham. : If it couldn't be (Free State's track team) that won it, I wanted it to be them."
Copyright 2018 The Lawrence Journal-World. All rights reserved. This material may not be published, broadcast, rewritten or redistributed. We strive to uphold our values for every story published.