Not long ago, Memorial Day was a time to reflect on those killed in past wars, the commander of Kansas' Army National Guard told a crowd Monday. That's all changed with the U.S. fighting in Afghanistan and Iraq.
"Today our concerns are more immediate than reflective," Brig. Gen. Jonathan P. Small told the dozens of people who attended a service at the Veterans of Foreign Wars post, 138 Ala. "This has not only been a nasty conflict, a difficult one, a challenging one in many dimensions that all of us really didn't dream of five, six and seven years ago : and it's going to be a long one."
The VFW service originally was scheduled for Memorial Park Cemetery, but late-morning rain forced it indoors. About 200 people gathered earlier in the day at Oak Hill Cemetery for a service organized by the Dorsey-Liberty Post No. 14 of the American Legion. That service included a flyover of vintage aircraft organized by Lawrence resident Bob Kolars.
"Aren't you glad they're ours?" asked past post commander Don McDow, the master of ceremonies, as the planes soared overhead. McDow also led the crowd in the singing of the "Battle Hymn of the Republic."
Photo Gallery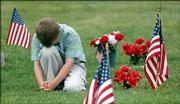 Memorial Day 2006 observances
The American Legion service's featured speaker, Army Col. Thomas A. Hardy, said that while politicians debate and "the news media whines," the war in Iraq is being fought by brave young people who care about more than having a nice car, a good job and a high score on a Nintendo game.
He read a letter from the mother of one of his young soldiers who was killed by an improvised bomb, and he said that freedom comes at a cost.
"Sometimes that cost is paid for in blood," he said.
Susan Greenlund, of Nevada, Mo., brought more than the usual reverence and sense of patriotism to the ceremony at Oak Hill.
She also brought along the casket flag of her aunt, Emma Josephine Klein, to donate it to the "avenue of flags," a collection of hundreds of flags put on display at the cemetery each Memorial Day. Klein, born in 1907, was a longtime Lawrence resident and served as an Army nurse during World War II, when she followed Gen. Patton's Army treating the wounded.
"I think it's a wonderful way to honor her," Klein said. "She'd be thrilled."
Lawrence resident Leonard Monroe, 74, leaned on a cane at Oak Hill and wore a baseball cap that proclaimed his status as an Air Force veteran of the wars in Vietnam and Korea. He said he thinks the war in Iraq is causing people to pay more attention to Memorial Day.
"It looks like everybody has woken up," he said.
He said he didn't want to talk about his own opinions of the war. It's irrelevant to a soldier, he said.
"You get orders, you go and that's it," he said.
Copyright 2018 The Lawrence Journal-World. All rights reserved. This material may not be published, broadcast, rewritten or redistributed. We strive to uphold our values for every story published.